"The intelligence of the rat, combined with its quick-wittedness, will seek the best leads and deals, without over-encumbering the endeavour," he said.
There are a number of tales as to how the rat became the first animal in the Zodiac.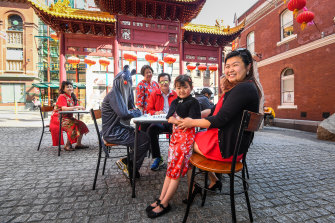 According to mythology, the rat won a race of animals organised by the Jade Emperor (or Buddha, depending on the version) thousands of years ago.
The course included a river, which the rat was able to cross after convincing the ox to let it ride on its back. When they reached the bank of the river, the rat jumped off and scampered to victory ahead of the ox in second place.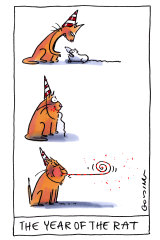 Those born in the Year of the Rat (such as 1948, 1960, 1972, 1984, 1996 and 2008) are believed to take on certain characteristics, such as intelligence, charm and a quick wit.
Some famous rats include William Shakespeare, George Washington, Mark Zuckerberg, Prince Charles, Rosa Parks and Eminem.
There are several superstitions to observe to avoid bad luck for the year ahead.
Taking medicine on the first day of the year is believed to leave a person ill for a whole year; eating porridge is said to bring poverty, and washing hair on the new year can wash away good luck. People will also clean clean their houses and buy new clothes to avoid bad spirits hanging around.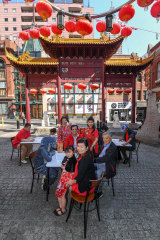 Traditional food eaten at Lunar New Year includes fish, dumplings and sticky rice cakes known as nian gao.
Eng Lim, president of the Melbourne Dai Loong Association, said nian gao was an offering to the Kitchen God that watches over a family's domestic life. At this time of year, the Kitchen God makes a report to the Jade Emperor on what he has seen.
"Because it's so sticky, if he has nothing good to say it will keep his mouth stuck together," said Ms Lim.
There will be a street party for Tet, as Lunar New Year is known in Vietnam, on Victoria Street's Little Saigon in Richmond on Sunday before other festivities in Chinatown and the CBD beginning next week. Dai Loong, the big dragon, will roam the streets on February 2.
There will also be lion dancing, cultural performances, a dragon boat regatta and lots of food among other activities across the next few weeks.
Separate festivals will kick off at Southbank and Chinatown this Friday.
Tom Cowie is a journalist at The Age covering general news.