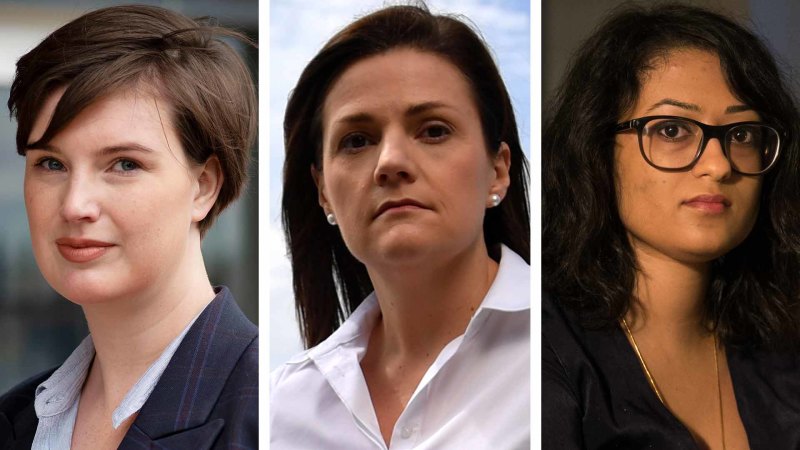 Chelsey Potter, who had her underpants ripped off her during a sitting week in Canberra by a fellow member, said the code was better than not having a policy but it starts from a "very, very low base".
"From my experience in politics there are some people who will just do what they want and this is who this should be targeted at," she said. "If you are going to take a zero-tolerance approach it needs to be enforced, not just encouraged."
Ms Potter, a former minster's staffer who joined the Liberal Party at 16, said the dispute resolution policy's language on unfounded claims and defamation threats over "spreading rumours and gossip" was "very concerning".
"It feels very geared towards protecting alleged perpetrators rather than empowering women in the party to speak up," she said. "If I was in the position I was in three or four years ago, it would have felt threatening – you are exposing yourself if you speak up."
Kate Johnson, who was a Coalition staff member for two decades, said the policy did not effectively cover employees of parliamentarians, who would continue to be referred for investigation under the Members of Parliament (Staff) Act for harassment, assault and bullying allegations.
She said the investigations were a waste of time and money. The Department of Finance has no capacity to take disciplinary action against either a Parliamentarian or an employee.
[The policy] feels very geared towards protecting alleged perpetrators rather than empowering women in the party to speak up.

Chelsey Potter
Ms Johnson was fired from her role as chief of staff to Ken Wyatt when he was aged care minister. She had raised bullying allegations about another staff member within his office with whom he had a close relationship.
"Parliamentarians shouldn't be above the law," she said. "The Prime Minister's office need to stop saying there is zero tolerance of bullying. This is simply untrue. Any MP who has bullied staff or failed to deal with bullying in their offices should be disendorsed."
Dhanya Mani, who alleges a fellow former staffer forced himself on her, tried to undo her jeans and began masturbating while at her house, said the policy would do nothing to protect women in her situation. The policy states it will only apply to to on-site, off-site or after-hours work, meetings and social functions convened by the Liberal Party. She said telling survivors to go to the police was not informed by trauma research.
Loading
"This is the UN of documents," she said. "It's an unenforceable best practice guide."
"People aren't harassed at highly populated party meetings but those events provide opportunities for the perpetrators to later harass the complainant behind closed doors. The vast majority of sexual assaults occur in private."
Ms Mani said she had little faith the state divisions would act on the code after taking her concerns to state party directors and the NSW Premier's office.
"My experience in NSW demonstrates the party and Parliament have no genuine interest in helping survivors of abuse," she said.
"These policies really only succeed in one regard: to put in writing every reason most survivors feel confident making a complaint will endanger their interests, and so barely ever do."
The Liberal Party said in an email to party members on Friday that is committed to providing a productive, rewarding and healthy workplace for all staff, volunteers, members and representatives.
Eryk Bagshaw is an economics correspondent for The Sydney Morning Herald and The Age, based at Parliament House in Canberra