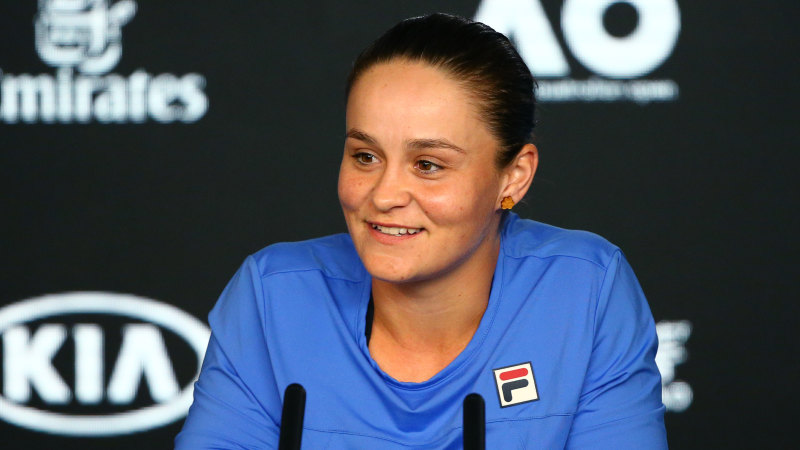 Another Australian with high hopes, Ajla Tomljanovic put the notion of playing at home another way.
"It's that fine line between pressure, excitement and anxiety all rolled into one."
For her part, Barty, 23, projected positivity. "I'm happy, I'm healthy, I'm coming into the first Grand Slam of the year with a smile on my face," she said. "That's all I can ask of myself."
Tsurenko, she said, played a similar game to some of the Europeans she encountered in Adelaide. "I know that I'll have to be ready to go right from the start," she said. "It's a match-up similar to a few of the girls I played in Adelaide. So in that regard there are some similarities but also know that she's her own unique player so there are challenges she presents. I'm looking forward to problem-solving and seeing what I can do."
Loading
Barty presented for her first media appearance of a big fortnight ahead looking fresh and happy after a win in Adelaide over the weekend which she described as "the perfect preparation" for the first Grand Slam of 2020. She was not infallible in the Adelaide International, but she was "as good as I needed to be".
Interestingly, she said she'd learned a bit there after losing early in Brisbane to start the year.
"There are still areas of my game that I'm trying to refine, trying to improve, trying to develop every single time I walk out on a court. From where I stand and how we're viewing last week and debriefing last week, it was a great problem-solving week. I felt like I worked a few things out, ironed out a few creases, and now we're excited to come in here feeling pretty good.''
Playing at home has been somewhat of an issue for her – until last year she had never gone deep into an Australian Open singles draw, although she made the doubles final in 2013 – and she lost a crucial singles rubber at the Fed Cup final against France in Perth last year, as well as losing first-up in Brisbane this year.
But Adelaide was a groundbreaker, and mostly, she draws from her 2019 experience in Melbourne.
Loading
"It's a learning experience,'' she said. "Every experience I've had in the last 12 months will hopefully help me tomorrow night. We take all the good memories from last year but understanding it's a clean slate and I still have to be sharp, have to be ready to go, have to bring my best tomorrow.''
She goes straight on to Rod Laver Arena on Monday, and a night session to boot. There is nowhere for her to hide now.
"I'm just making the most of playing in Australia,'' she said. "I love playing in Australia, I love playing in front of the Australian public. I think for me, it wouldn't make sense not to make the most of that. I've got a month in Australia and I want to do the best I can in that period.''
Martin Blake is a Sports production journalist and writer for The Age.