Immediately, it appears Lederer is looking towards Babbel's assistant, Jean-Paul de Marigny. The former Marconi and Sydney Olympic coach has been handed the reigns on a caretaker basis but the manner in which he was unveiled on Monday suggests there is already scope for that to become a permanent arrangement.
De Marigny's unveiling at a press conference two hours after the coach was sacked was unusual in that it bore the hallmarks of a full-time appointment. Unlike when Melbourne Victory announced Carlos Salvachua as interim coach for the remainder of the season, the Wanderers put no timeline on de Marigny's reign but confirmed his candidacy for the permanent position.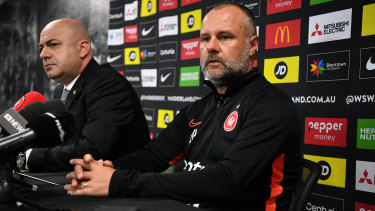 "Obviously JP knows the landscape, knows the playing group," Wanderers chief John Tsatsimas said. "He predominantly has Western Sydney coaching experience and is certainly a coach that knows what this club is all about."
That is despite allegations, made by several club sources and reported in the Herald last month, that de Marigny was a divisive character was actively undermining Babbel.  De Marigny denied those allegations last month and again when asked on Monday.
Loading
"That is someone's opinion. As far as I am concerned that was a personal attack that was uncalled for because our relationship is excellent and it will continue to be excellent so I have got nothing to answer in regards to that," he said.
The axe fell on Babbel but de Marigny's fingerprints are all over the Wanderers' performances. He had a highly active role as an assistant under Babbel, leading team meetings, analysis sessions and running training sessions. Players have privately complained that training was monotonous and demotivating.
De Marigny defended his contribution towards the club's performances. "I am very comfortable with what I have done at the football club the last 18 months and it will continue that way," de Marigny said, ruling out making significant changes to his approach.
"It will be very similar. There will be a few changes in the way that we approach training and the way that we approach the game."
The Wanderers will give him the chance to prove he deserves the job on a permanent basis, hoping to see a remarkable improvement. But it is hard to see how much more de Marigny can get out of a side on which he has already had such a strong influence.
The club doesn't need to just salvage a season but also a brand.  The reputation of their A-League side has been trashed since Popovic left. Memberships have dropped 15 percent and attendances have fallen depite the move to Bankwest Stadium. There is no consistent style of football synonymous with the club – due in large part to the fact 56 players have come and gone since the departure of their founding coach.
This identity crisis hasn't gone by unnoticed. "This region demands hard-working people," Tsatsimas said. "If you play for the shirt and you play for the region, you are off to a solid start."
In the past, the Wanderers have opted for coaches with character. What they really need now is a coach who can build a team with character.
Dominic Bossi is a football reporter with The Sydney Morning Herald.