Thanks for joining our live coverage for day two of the Australian Open. 
There's still matches being played, with Alexander Zverev, Angelique Kerber, Australian Priscilla Hon and John Isner some of the notable names on court. With catch up games needed, it could be a long night. 
Join us again tomorrow when we take you through day three of all the action at Melbourne Park with Roger Federer, Stefanos Tsitsipas, Ashleigh Barty and Serena Williams set to play. 
And there's another video below it with a second Kyrgios tribute to De Minaur. 
Kyrgios seemed to injure his hip in the third set. He pulled up a little sore when running for a ball behind the baseline, but he gave no indication when asked that it was a bad injury. 
"I just move like a giraffe sometimes [Kyrgios said of the injury], you know that," Kyrgios told McEnroe, who has coached the Australian a few times at The Laver Cup. 
"That was for you little man," Kyrgios says when talking to John McEnroe after his win. 
De Minaur, Australia's top ranked male player, had to withdraw on the eve of the Australian Open due to an abdominal injury. 
He and Kyrgios have struck up quite the friendship of late, particularly at the ATP Cup earlier in January.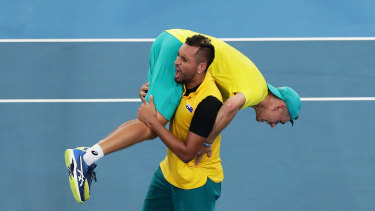 He tells Kyrgios he will donate $1000 for every set the Australian wins for the rest of the tournament.
That's on top of of Kyrgios donating $200 for every ace he hits. 
Could be an expensive fortnite for McEnroe. 
Daniil Medvedev has beaten Frances Tiafoe in four sets 6-3, 4-6, 6-4, 6-2. 
"I was just really excited to get out here. It's been a pretty emotional couple of months for all of us," Kyrgios said.
"He's a tough competitor, a very good player … he [bloke in the crowd] has had too many beers. 
"This is my favourite court in the world … I feel super comfortable. You guys are the best. I feel the support. 
"I definitely didn't feel alone tonight … I am ready to go again.
"I just move like a giraffe sometimes [Kyrgios said of the injury]."
He gets through what could have been a tricky night with relatively no fuss. Kyrgios beats Lorenzo Sonego of Italy 6-2, 7-6 (7-3), 7-6 (7-1).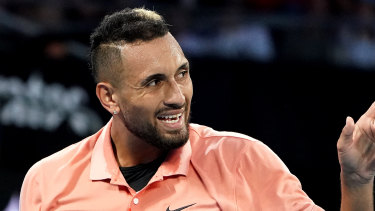 Sonego capitulating again on his serve in the breaker, losing the first two points
If he wins it, he wins the match and goes through to the Australian Open second round