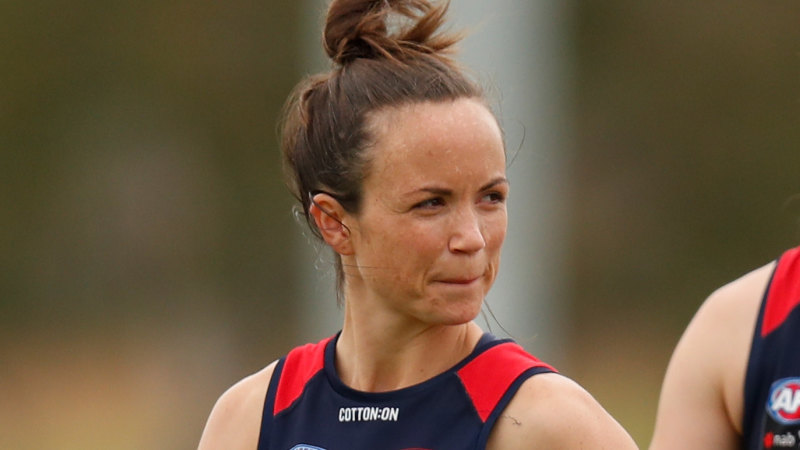 Twice voted as the AFLW's best captain and the first captain of the AFLW All-Australian team, Pearce is one of the game's stars and her return is anticipated as the depth of talent in the competition continues to build.
Pearce will be supported in the role by Karen Paxman, who has been named vice-captain for 2020. Paxman has been All-Australian in each year of the AFLW, finishing runner-up behind Adelaide's Erin Phillips as the AFLW's most valuable player in 2017.
Melbourne's AFLW coach Mick Stinear said the Demons were lucky to have two natural leaders in their team.
"Daisy has, and continues to, inspire this group, and that's both players and staff who are involved in the program," Stinear said in a statement.
"That's by the way she acts on and off the field, but we talk about the 'Melbourne person' being hardworking, humble, competitive and resilient and she embodies those qualities.
"With her knowledge of our game plan, and her ability to instruct, support and give feedback on and off the field, she's just the ideal person to lead this group."
Pearce told the club website she did not hesitate to accept the role viewing it as an honour to lead the club.
"There are so many other people in the team that can lead at different times, I don't feel like the pressure's all on me suddenly to be everything from a leadership sense," Pearce said.
"Whether I was named captain or not, I probably would've had the same approach to the way I go about things on gameday, so I don't feel like it adds any extra pressure."
Melbourne opted to limit the leadership group to just two players in 2020. They finished third in 2017 and 2018 before being fourth in the stronger conference in 2019.