Melco is run by Lawrence Ho – the son of Macau casino tycoon Stanley, who along with a list of associated entities is banned from involvement with Crown due alleged links to organised crime.
Crown's $2.4 billion high-roller casino and hotel under construction at Sydney's Barangaroo is due to open early next year.
Mr Bell said Mr Packer will be called to give evidence along with long-standing Packer family operators Guy Jalland and Michael Johnston, Crown Resorts executive chairman John Alexander, and Lawrence Ho.
Mr Packer, 52, stepped back from corporate life in 2018 due to mental health issues and has tried to avoid Sydney since 2012.
The son of late media tycoon Kerry Packer reportedly fears the attention he receives in Sydney and spends most of his time in the US and Argentina, although he made a quick visit to inspect the Barangaroo site earlier this month.
In an opening submission Mr Bell laid out the corporate web behind Melco Resorts.
He submitted that one company that acquired an indirect interest in Crown through Melco's purchase of almost half of Mr Packer's Crown stake in the company was Great Respect Limited, which is one of the companies banned from involvement in Barangaroo.
"Crown Resort's position was that it was not informed of the share sale until after it had been executed, and in any event it was not within the power of Crown Resorts to prevent the execution of that agreement," Mr Bell said.
Mr Bell said evidence would establish that the sale of Mr Packer's shares to Melco was negotiated by Mr Jalland, who runs Mr Packer's private investment company and is also a director of Crown Resorts.
Melco, which has signalled it wants to take full control of Crown, has previously passed local probity checks, in Victoria in 2005 and NSW in 2014.
Mr Bell said other issues to be examined across five separate hearings will be money laundering in casinos and the involvement of organised criminals with tour junkets, a review of how casinos are regulated and Melco's suitability to be associated with Crown.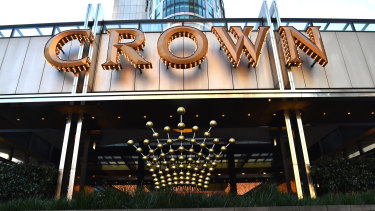 Counsel assisting Naomi Sharpe said the hearings would examine the arrest of 19 Crown employees in China in 2016 for breaking the country's strict gambling laws.
She also highlighted the "significant changes" made to the independence and power of the NSW gambling authority since 2013.
Commissioner Patricia Bergin, a former NSW Supreme Court judge, said the public would expect the state to adopt "a robust and equally sophisticated" approach to casino regulation if the inquiry found current regulation lacking.
"The risk of the infiltration of organised crime into casinos is not only a matter of legitimate public concern and interest but also of significant complexity," Commissioner Bergin said.
Ms Bergin said 35 summons had been issued and so far about 58,000 documents had been received.
The inquiry will resume on February 24, starting with hearings into junkets and money laundering.
Business reporter at The Age and Sydney Morning Herald.