"We've seen some of the consequences of that inaction over the past few weeks when it comes to fires, which have ravaged so many parts of our country," he said. "The fires will have a substantial impact on the economy and they'll have an impact on the budget."
Mr Frydenberg said on Tuesday the forecast $5 billion surplus could be at risk as he begins drafting the budget without knowing the full impact of the summer fires that have torn through Victoria, NSW and South Australia.
Mr Frydenberg said the Reserve Bank [RBA], the Australian Prudential Regulation Authority and the Australian Securities and Investments Commission were already working to understand the risks of climate change.
He dismissed suggestions from the BIS, the central bank of the world's central banks, that the Reserve may have to "buy a large set of carbon-intensive assets" such as coal-fired power plants if they become a liability for the banking and insurance sectors.
"I can't see that happening," Mr Frydenberg said.
Unlike some other central banks, the RBA only holds government securities and does not have any exposure to corporations. In the event of the collapse of a fossil-fuel intensive company that puts the viability of a major bank at risk, the government would be more likely to step in than the Reserve.
The RBA warned late last year that carbon-intensive industries could be hit by unexpected regulatory change that could quickly lower the value of such assets or businesses, some of which may become economically stranded.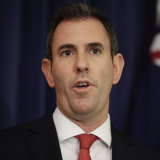 "Change has so far occurred at a pace that has allowed financial institutions to adjust, and losses associated with climatic events have been manageable," the RBA said. "But climate change could emerge as a risk to financial stability if it is not properly managed, or if the size of climate-related losses increased materially."
PricewaterhouseCoopers on Tuesday became the second big four global accounting firm to report rising environmental concerns among business leaders. It released research at the World Economic Forum in Davos that among 1600 CEOs, climate change and environmental damage had rated as a top 10 growth threat for the first time.
Loading
PwC found the global fears have driven Australian CEOs to record levels of pessimism. It urged the Coalition to set a clear direction for Australia's energy and climate policies.
"Ongoing delays are no longer acceptable," PwC Australia energy utilities and resources leader Mark Coughlin said. "A path dominated by renewables will give us the best chance of solving our energy trilemma within a generation."
Eryk Bagshaw is an economics correspondent for The Sydney Morning Herald and The Age, based at Parliament House in Canberra
Shane is a senior economics correspondent for The Age and The Sydney Morning Herald.