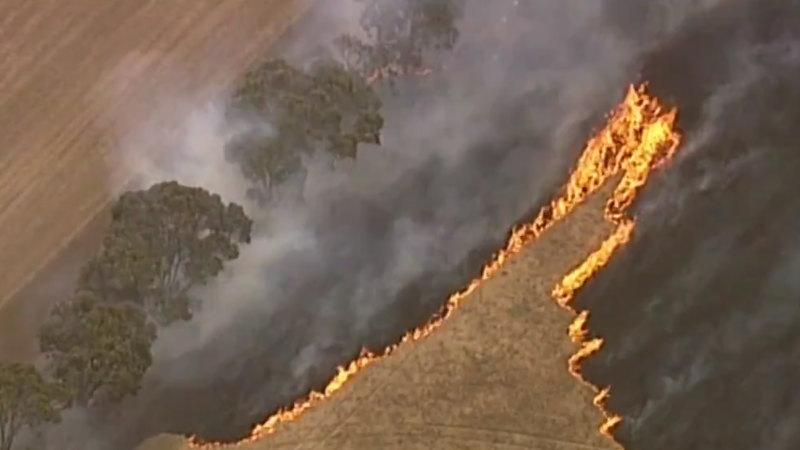 A handful of other fires in East Gippsland were brought under control on Wednesday.
Cloud cover in the west stopped temperatures from soaring on Wednesday, however Mildura still hit 35 degrees.
"It's just that we didn't get the real extremes of a clear sunny day, the potential was there for 40 degrees easily," Bureau of Meteorology forecaster Peter Blake said.
Yarrawonga, on the Murray River, and Orbost in East Gippsland had both reached 36 degrees and were the hottest places in the state by 3.30pm.
Damaging winds smashed the state on Wednesday, bringing 98km/h gusts to Mount William, and whipping up dust in the Mallee.
Melbourne and Avalon airports recorded wind gusts up to 83km/h.
Part of Melbourne Zoo's elephant enclosure shut on Wednesday due to concerns about a wobbly tree that couldn't be checked in the winds.
The zoo was otherwise open as normal, but Jamaican band Toots & The Maytals has cancelled its upcoming gig at the Zoo Twilights series next Friday over air quality concerns.
Dry lightning is expected to sweep through the state after a wind change, with rain to follow.
"Hopefully the falling rain will put out any lightning strikes that cause fire," Bureau of Meteorology forecaster Peter Blake said.
The rain could bring minor flooding to the Yarra, Bunyip, Werribee and West Gippsland catchments from Thursday morning.
"Catchments in the flood watch area received significant rain earlier this week and are likely to be responsive to further rain," a warning from the bureau said.
Mr Blake said the south and central areas, including Melbourne, are likely to receive 10 to 25 millimetres of rain with isolated showers of up to 50 millimetres.
The north will only see five to 10 millimetres, while the Mallee and fire-affected towns in far East Gippsland will get less than five millimetres.
The rain is expected to clear to the east late on Thursday.
Victoria has seen bizarre weather over recent weeks, with the fire crisis, giant hail stones and heavy rain.
A spokeswoman from the State Control Centre said tens of thousands of damaged trees posed a significant safety risk in fire zones.
So far this fire season, 405 homes have been destroyed, along with 653 other non-residential structures.
The fires have also already torn through 1.4 million hectares.
Rachel is a breaking news reporter for The Age.