"They didn't rescue a single fish," he said. "It's just horrible."
The Murray-Darling Basin Authority revealed the scale of the threats to the health of freshwater ecosystems on Wednesday, with the release of a map showing almost all the major river valleys faced problems.
These ranged from "almost certain" algal blooms and low dissolved oxygen levels to high salinity and bushfire contamination.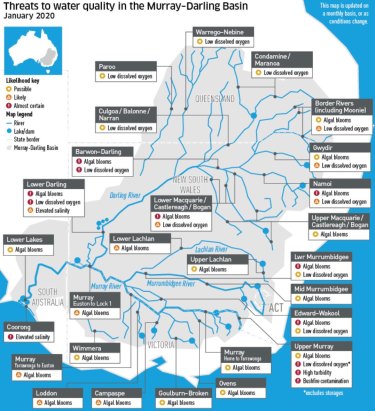 "We are concerned about water quality throughout the Basin this summer," said Andrew Reynolds, MDBA's acting chief executive.
"We expect water quality to continue to be a serious issue as the drought continues and risks of contamination from bushfires remain," he said in a statement. "Bushfires are an added complexity to the water quality issues we regularly deal with in summer and particularly in times of drought."
Loading
A spokesman for WaterNSW said there had been "a high number of alerts in the Murray-Darling Basin during the drought". These included in the Murray River region near Wentworth, as noted on the agency's website.
"Blue-green algae is a naturally occurring phenomenon, which is more prevalent in the current drought conditions where there are low flows, warm sunny days, an absence of replenishment inflow," he said. "Factors such as evaporation can concentrate nutrients, and any small inflows are likely to introduce new nutrients."
Professor Baumgartner said low-oxygen levels in the wake of bushfires in northern NSW afflicted some 70 kilometres of the the Macleay River.
Fisheries had found some pools with dissolved oxygen down to 0.16 milligrams per litre.  At 4 milligrams, fish typically start to struggle, and "below 1 milligram, it's lethal", he said.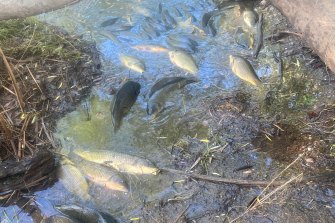 Matt Hansen, president of the Inland Waterways group, said "thousands of fish and millions of shrimp" had died in recent days in the Macquarie and Bell rivers near Dubbo in central-west NSW.
Recent rain had washed in top soil loosened after the drought had reduced grass cover, he said.
"There's community outrage" over the fish deaths, Mr Hansen said. Part of the anger is because WaterNSW had promised to build fishways as an environmental offset when they rebuilt part of nearby Burrendong Dam.
Loading
The inability for fish to migrate along large stretches of the river meant that "it's game over for now" for many of the native species, he said.
Professor Baumgartner said the state and federal governments had not set aside "a single cent" from the bushfire recovery funds to help aquatic species recover from the fires that will amplify the threats to the aquatic resources.
"They are going to struggle just as much as many terrestrial species," he said.
Professor Baumgartner was speaking after a visit to the NSW Fisheries centre at Narrendera, where staff have built tanks waiting to receive rescued stocks of endangered species.
"It's pretty bad if fish can't survive in our rivers and we have to catch them and put them in tanks," he said.
Peter Hannam writes on environment issues for The Sydney Morning Herald and The Age.
Most Viewed in Environment
Loading