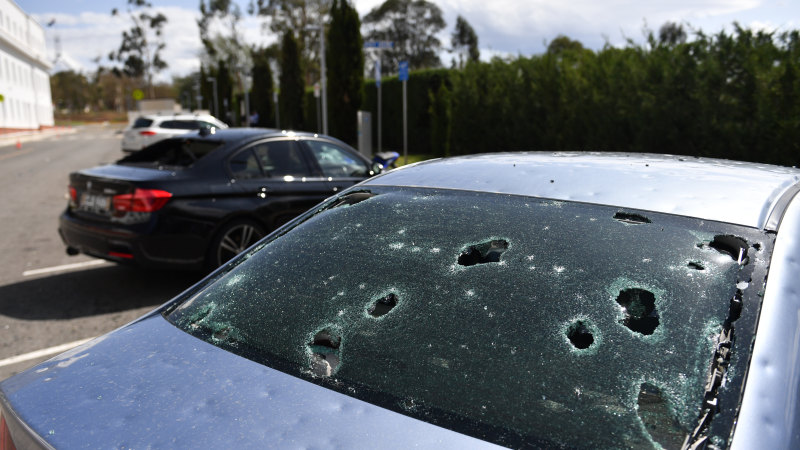 Its results, to be released on February 12, will also include an $80 million provision for discounts to customers that were not applied.
"We are pleased with our underlying business performance, which continues to track in line with our expectations, both at the GWP [gross written premium] and underlying margin levels, and in terms of the net benefits being realised from our optimisation program," chief executive Peter Harmer said in a statement.
"We have, however, revised our reported insurance margin guidance for the full year, to reflect the
recent heavy natural peril activity and a reduced expectation for prior period reserve releases
following the lower than anticipated first half net reserve release outcome," Mr Harmer said.
IAG said the hailstorms that hit Sydney, Melbourne and Canberra on January 19 and 20 would cost the company $169 million in claims before tax. Following the storms, the insurer has lifted its assumption for natural peril claim costs for the full year by $74 million, to $715 million, which is expected to drag on the profitability of its underwriting.
Bell Potter analyst TS Lim said the higher claim costs were not surprising given the high number of disasters in recent times, but gross written premium growth of 1.4 per cent was weaker than he had expected.
"I think it's top line growth that has spooked a lot of people," said Mr Lim, who has a "buy" recommendation on the stock.
While bushfires have been devastating for communities across the east coast this summer, the narrow financial cost to insurers from fires is generally lower than the cost of hailstorms.
That is because this month's storms hit areas that are more densely populated, resulting in higher claims. IAG has received about 7000 claims relating to bushfire since September, compared with more than 28,000 claims from this month's hailstorms.
Shares in rival insurer Suncorp slid 1.7 per cent on Friday. Mr Lim said the Brisbane-based company would have less exposure to the recent storms than IAG.
"I think it won't be as bad because they don't have that much exposure to NSW, Victoria and the ACT," Mr Lim said.