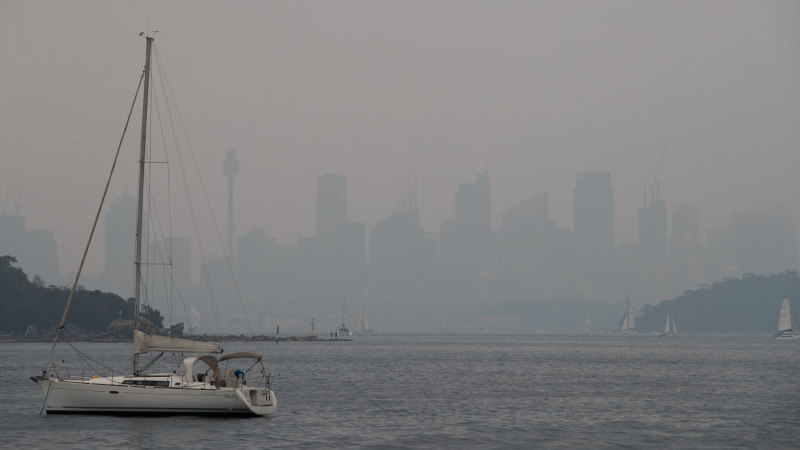 "Not benign, but mild conditions," Mr Shabren said.
Loading
On Sunday we'll see clouds moving out and patchy sun around New South Wales, as well as the chance of isolated thunderstorms in parts of the state.
"These thunderstorms are not going to bring any widespread rainfall, particularly around the fire ground areas."
The main issue in terms of safety will be a continuation of smoky conditions that have plagued large parts of the state for the past few months.
"Smoke could be a problem." Mr Shabren said.
"If we have a temperature inversion with those unsettled upper levels of the atmosphere, the smoke can be trapped across the basin, around the valleys as well as the Sydney Harbour."
People going out with breathing issues should be "concerned" and "vigilant, he said, recommending they keep an eye out for air quality ratings of poor or worse.
There have already been 14 days in 2020 where air quality was rated as 'poor', 'very poor', or 'hazardous', to go with 81 in 2019, which was the most ever in a calendar year in Sydney.
For the second consecutive day, there will be no total fire bans in the state on Saturday, with just five areas rating above a low-moderate fire danger rating.
Loading
Monaro Alpine, ACT, Southern Ranges, Central Ranges and Southern Slopes are all rated at high danger.
At 7pm Friday, there were still 56 fires burning around the state, with two at "watch and act" level: the Good Good and Creewah Road fires, both in the Snowy Monaro area.
Matt Bungard is a journalist at The Sydney Morning Herald.
Most Viewed in Environment
Loading