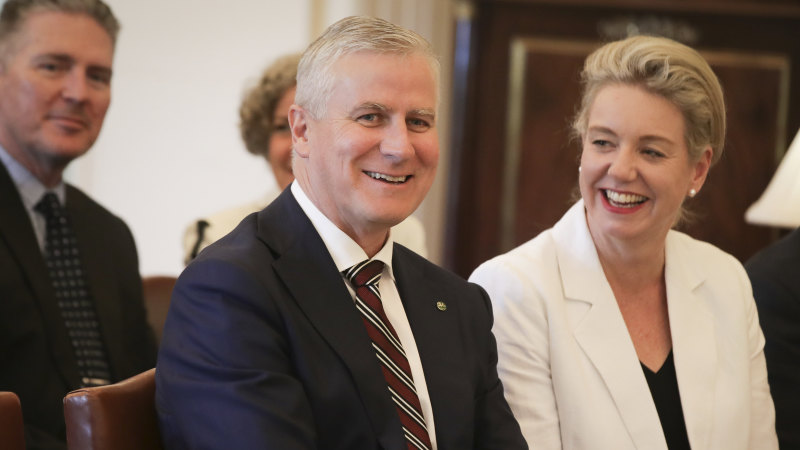 Critical to the review is the timeline between when Senator McKenzie was given a membership of the Wangaratta Clay Target Club and when a grant for $36,000 was approved by her office.
Loading
Mr McCormack said on Friday many things about the issue in the media were "quite frankly untrue" and hit out at colleagues who would not put their name to unattributed comments in the media.
"Bridget McKenzie has declared her memberships, as she was required to do. Bridget McKenzie has followed the process, as she was required to do," Mr McCormack said.
"And let me tell you, this process that she followed was way and above more transparent and more accountable than the processes the previous Labor government has put into place."
Mr McCormack said the process should take its "natural course" and "we'll see what happens after that".
Loading
Mr Dutton said Senator McKenzie became a member of the club only after the grant had been approved – an issue the review is now examining.
"The thought that she is a member of this club and somehow her club benefited is a complete nonsense," he told the Nine Network on Friday.
"If you strip away the emotion and look at the facts as we should do, I don't think that a case has been made for Bridget McKenzie's removal.
"Ministers are appointed to make decisions. We all make decisions in our portfolios. That is exactly what she has done."
Loading
The auditor-general's report last week slammed Senator McKenzie over her handling of the program, which she oversaw as sports minister, revealing she and her staff intervened hundreds of times to overturn the merit-based assessments of applications from sporting groups for cash.
Attorney-General Christian Porter will also review legal issues raised by the auditor-general's report as to whether the former sports minister had the legal authority to determine successful grant recipients.
Sources close to Senator McKenzie believe she could survive the review on a technicality that could clear her of any breach of ministerial standards.
Labor deputy leader Richard Marles said he expected Senator McKenzie to stay in her job because she was being "protected" by colleagues in the Nationals.
"This was a Liberal Party sand-bagging scheme, that is ultimately what it was," Mr Marles said.
"Bridget McKenzie will stay there because she is protected by the National Party. In this government, everyone is protected by someone."
Rob Harris is the National Affairs Editor for The Sydney Morning Herald and The Age, based at Parliament House in Canberra