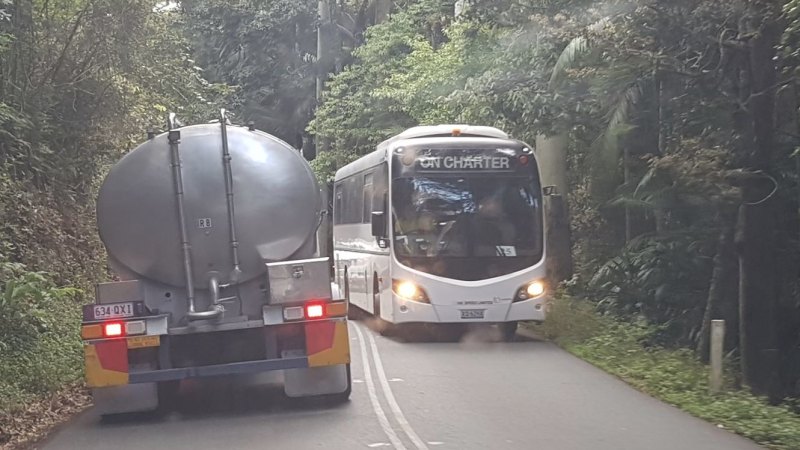 Mr Ryan said the resort operators, Joyful View, had voluntarily committed to the action.
Loading
"Any similar commitment would be a matter for the commercial water operators at Tamborine," he said, in a statement.
In December, Tamborine Mountain residents called for the government to declare a water emergency in their town amid concerns about commercial water extraction and drying bores.
With 7500 residents, the community is the largest in Australia without town water and relies largely on bores, with some people also paying between $190 and $250 for a 12,000-litre tanker of water.
The mountain township recorded only about half of its average annual rainfall in 2019.
The high school water bore ran dry mid-year before the primary school bore dried up on December 11. Parents were asked to consider not sending their children to school for the final two days of the year,  as supplies were trucked in to flush toilets and those attending were given bottled water.
Community group Save Our Water – Tamborine Mountain had viewed the declaration of a water emergency as a means to limit the amount of groundwater commercial operators could take.
At the time, Natural Resources Minister Dr Anthony Lynham said because the town's supply was from groundwater, and therefore unregulated, any declared water shortage would impose restrictions on all users.
Scenic Rim Regional Council received a brief on groundwater reserves as part of a three-year project with the Queensland University of Technology in September. It warned without significant rain, advice from local water carriers suggested supplies "may become critical".
A decade-old QUT study, pointed to by Mr Ryan, estimated about 84 per cent of water from the mountain was used for farm irrigation, 11 per cent by households and five per cent by commercial operators.
This accounted for less than five per cent of of the average annual groundwater recharge rate.
With about two-thirds of the state drought declared, Ms Palaszczuk this week announced a finalised route for a new water pipeline slated to link regional centre Warwick to Wivenhoe Dam.
One week earlier, the nearby town of Stanthorpe began a government-funded program of trucking in its drinking water for residential use.
Matt Dennien is a reporter for the Brisbane Times.