Additional police will patrol St Kilda over the long weekend, where thousands are expected to celebrate.
"St Kilda is traditionally a hotspot for Australia Day and we know that people go there to have fun, and we want them to," Ms Murphy said.
"But what people need to understand is that Victoria Police …  have a targeted operation in that area, we have an ability to search anyone who enters that area, in a defined area in defined times. If you come there to misbehave, trust us, we'll get you."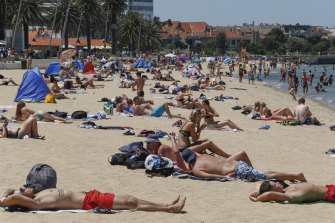 Police will also be out in force at parks and other public areas.
"From the shores to the suburbs and the CBD, we'll be there. This isn't anything to be concerned about, police are there to keep you safe and we hope our presence makes you comfortable as you celebrate the long weekend," Acting Commander Darren Franks said.
Loading
He encouraged revellers to drink in moderation and warned police would be monitoring licensed venues to ensure alcohol is served responsibly.
In 2018, police fears of clashes between far-right groups and other St Kilda beachgoers failed to come to fruition, while last year there were no significant violent incidents in St Kilda.
Australia Day and Monday's public holiday are forecast to reach 27 degrees.
Police also launched their annual long-weekend road safety campaign. Five people died on Victorian roads over the Australia Day weekend last year.
Already this year, three people who were not wearing seatbelts have been killed.
"Enjoy the long weekend, travel safely but wear your seatbelt, don't drive fatigued, and more importantly don't be on your phone," Ms Murphy said, adding that there would be "ample" booze- and drug-buses on the road.
Police also plan to crackdown on out-of-control parties at Airbnbs or short-stay rentals.
"Anyone who plans on causing trouble or breaking the law in rented short-stay properties, including hosting or attending disruptive parties that can lead to significant property damage or other crime, expect a swift and firm response from police," Acting Commander Franks said.
"If you have planned a small gathering at your short-term rental, do not advertise it on social media and plan for how you will respond to uninvited guests."
Michael is a reporter for The Age.