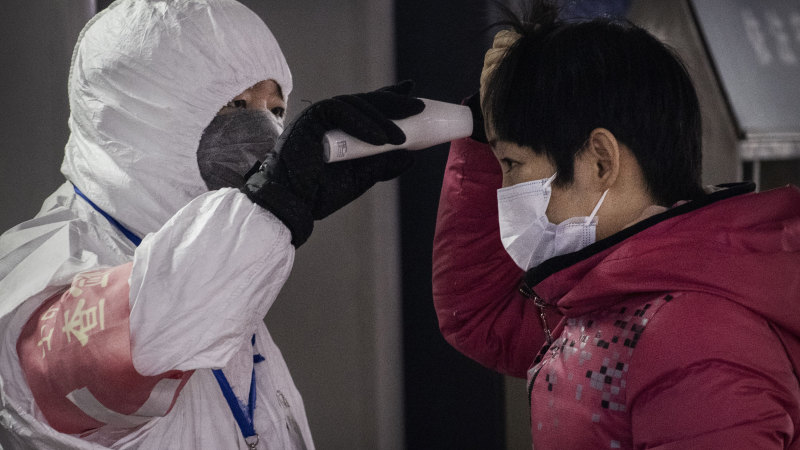 Australian health authorities are managing four confirmed cases of 2019-nCoV, in Melbourne and Sydney and preliminary test results point to a fifth case. Officials are seeking to contact all passengers who were on the same airline flight from Wuhan as one of those patients.
But there is a need for some perspective amid all this. Social media would have you believe, falsely, that every person in the crowded corridors of Wuhan's hospitals represents a case of 2019-nCoV.
To be clear, this is the peak season for respiratory illnesses and influenza in the northern hemisphere. Not everybody in Wuhan's busy hospitals has the coronavirus; many will be seeking treatment for unrelated illnesses.
Certainly, the World Health Organisation stresses the risk of infection is very high in China and high in the broader regional area, which includes Australia.
There is substantial air travel between China and Australia, and that is why this nation needs to be on alert – not in a state of alarm – and why Australians generally need to be highly attuned to informed, accurate and credible medical advice.
Australia's Chief Medical Officer, Professor Brendan Murphy, has stressed that fellow passengers on air flights from affected areas "probably have a low risk" of infection. Professor Murphy also sees hope for avoiding any rapid spread in this country from person to person. "If we get on to it well, and you don't get a focus of cases, that can be prevented," he said.
Loading
The WHO says the key to minimising the prospect of a pandemic is to identify suspect cases rapidly, diagnose the causes precisely, manage those cases, locate contacts and, importantly, engage in proper infection control. For the general public, that means, at a minimum, frequent washing of hands and gently covering the nose and mouth to prevent transmission of droplets.
One hundred years ago, the Spanish flu pandemic killed millions of people. Poor hygiene, poor diet, overcrowded conditions and the lack of medications or, indeed, basic care to assist patients most likely exacerbated the impact.
The US Centres for Disease Control and Prevention notes most people will be infected by a form of common coronavirus at some stage in their life. The elderly and those with compromised immune systems are more susceptible.
To put this further into perspective, heart disease is likely to kill more than 17,000 Australians this year, more than 14,000 will die of dementia, and about 3000 will tumble accidentally and die.
That is not to dismiss the threat: Australians need to keep an informed, but clear, perspective about the risk of contracting 2019-nCoV. At the same time, our health and border control authorities must be fully engaged with every aspect of this particular coronavirus.
After all else this summer, authorities cannot afford to be blasé about it.