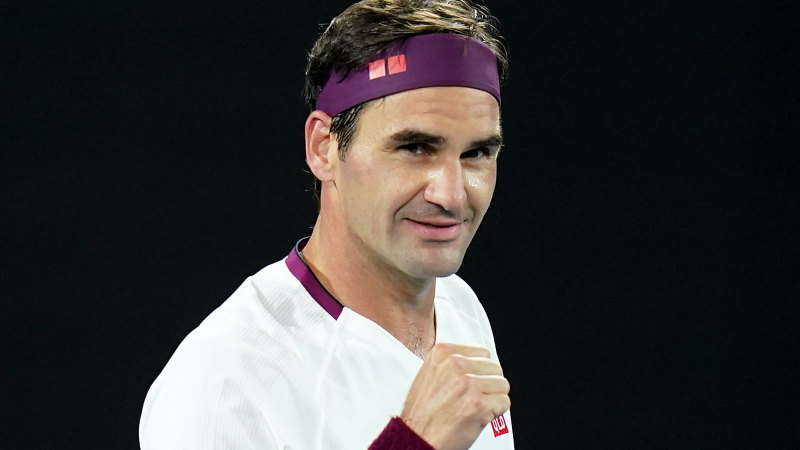 That was not the case against the 27-year-old Hungarian on Sunday night. Federer sat placidly waiting for the second set to start and then went about methodically brutalising his opponent in the next three sets.
By the fourth set Fucsovics was completely off his game and mentally rattled by how hard it was for him to get any vulnerability to show in Federer's game.
The crowd on Rod Laver Arena were treated to the classics in the fourth set; first via an impossibly powerful backhand-overhead smash from Federer and next a looping dipping forehand down the line.
Both winners drove the shiv deeper into the back of the helpless Hungarian.
"Aye, aye, aye," Federer said when he hit an uncharacteristically wayward shot when serving for the match, such were his comfort levels.
Loading
Match point was brought up with an elegant half volley as he charged to the net although he did not capitalise right away. Fucsovics defended two of them, before on the third Federer forced an error from the Hungarian to book his spot in the last 16 at Melbourne Park.
"It was a tough start I though Marton played clean. It was the rest of the Millman match [effect on me]," Federer said.
"It took some time, I was looking to maybe mix it up a little bit more … just had to figure it out, finally found a way.
Federer said he was physically spent after the Millman win: "I lied in bed for an hour and I was like 'when are we going to stand up?'"
Federer will play American Tennys Sandgren in the quarter-finals on Tuesday. The unseeded World No.100 defeated Italy's Fabio Fognini in four sets earlier on Sunday.
He made the Australian Open quarter-finals in 2018 but lost to Chung Hyeon. Remarkably he has made the quarter-finals twice in his three Australian Open main draw appearances.