But they were determined not just to catch up with friends but to celebrate living in a peaceful, prosperous country.
Ms Mohseni, who grew up in Iran to Afghani parents, said they had ''run away from fighting and war''.
In countries such as Afghanistan, ''you don't know if tomorrow you will be alive or not''.
She and husband Asif Rezai had migrated ''for our kids, to be able to have a good life''.
Ms Mohseni, 29, and Biniamin, 10, of Cairnlea, were among 180 people who accepted their citizenship certificates and native plants at a Brimbank City Council ceremony at Kevin Wheelahan Gardens in Sunshine.
At Melbourne Town Hall, Lord Mayor Sally Capp welcomed more than 100 new citizens, and at St Kilda Town Hall Port Phillip mayor Bernadene Voss welcomed 120 new citizens.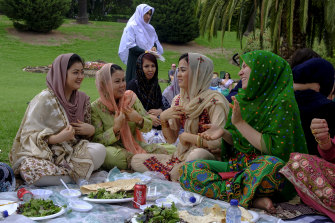 Ms Mohseni, who came to Australia in 2013, said she was looking forward to voting. And when Biniamin and her two younger children, born in Australia, are older, they can attend university and maybe become a doctor or engineer.
Biniamin said he felt more Australian after the ceremony. He was excited to qualify for a passport so he can visit his ajai − grandmother − in Turkey, whom he hasn't seen for six years.
At the barbecue, Biniamin forgot to eat, playing soccer and Australian rules football, and grazing his elbow falling off his scooter.
But the best thing was ''meeting my friends and playing with them''.
One of the barbecue's organisers, Altaf Khan, 35, of Delahey, said some present came as asylum seekers up to eight years ago and were on temporary visas.
Their families have remained overseas, not able to join them.
''They don't know what's going to happen. When you start talking with them, they start crying. They see the children playing here, they miss their own children.''
Australians are criticised for being racist, but Mr Khan said the proportion of racists in Australia compared with Afghanistan was at ''minimum'' level if not zero.
''If you go to Afghanistan or Iran, you will see the maximum percentage.''
He said that in Afghanistan, many people didn't have enough to eat and Hazara people were persecuted and feared for their lives.
''You go to the bazaar to shop and you don't know if you'll come back alive.''
Mr Khan said Australia was a good country to bring up their children.
''It's full of opportunity. We wish more of our people can come here but it's not in our hands.''
He wanted to celebrate Australia Day as a sign of respect to, and identification with, his new country.
''Australia is like paradise,'' Mr Khan said. ''It's such a a beautiful country, full of opportunities, very cool, welcoming people who have sympathy for other people.
''I think those who don't have such opportunities, they just wish to have this opportunity to be here.''
Carolyn Webb is a reporter for The Age.