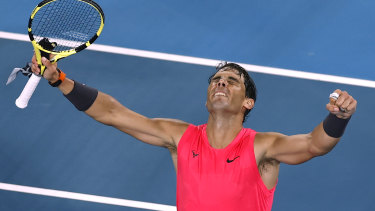 Thank you for joining our live coverage of day 8 of the Australian Open.
What a way to finish the long weekend with a thrilling match that had it all. Nick Kyrgios was impressive as he took it to the world number one, but the Spaniard was too good.
That's a wrap. We'll be back on deck tomorrow with all the quarter final action.
Thanks, and see you tomorrow!
Nadal spoke about the death of basketball legend Kobe Bryant in a helicopter crash.
Asked about it by John McEnroe in his post-match interview, Nadal said that when he woke up and heard the news he was 'super sad'.
'He was one of the greatest sportsmen in history. He deserves a round of big applause".
Nadal said it was a sad day and that Bryant would be 'in our hearts and our minds for the rest of our lives'.
John McEnroe is with Nadal speaking about the match. 
'That was an absolutely, exciting, awesome effort by both you guys," says McEnroe.
Nadal on Kyrgios:
"It was a very tough match," Nadal said.
"I thought I was a bit under control but against Nick you are never under control".
"I played a scary game in the 5-4…that's part of the sport."
"When he's playing like today with this positive attitude he gives a lot of positive things to our sport.
"He's one of the highest talents that we have on our tour."
Nadal wins an epic! He beats Kyrgios in four sets 6-3, 3-6, 7-6, 7-6. Fantastic match!
The world number one heads to the quarter finals to take on Austria's Dominic Thiem, the fifth seed.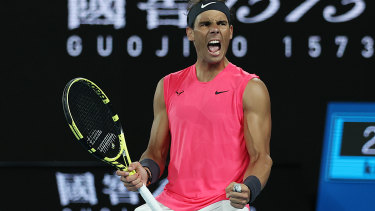 Nadal had his chance serving for the fourth set and ended up in a tiebreak. Nadal is now serving with two match points. 
It's 3-3 in the tiebreak with Nadal to serve.  The Spaniard slams a first serve down the centre. 
It's 6-6 in the fourth set and off to a tiebreaker after some incredible rallies and drama on court. This is high tension stuff. 
Kyrgios has held it together and is really fighting here.
Earlier, he had a bit of a lie down on the court. He continues to give it his all.
Amazing point at 40-30. Kyrgios hits a drop volley, Nadal catches the tape with a cross court volley and Kyrgios goes down the line with a winner. This match has it all.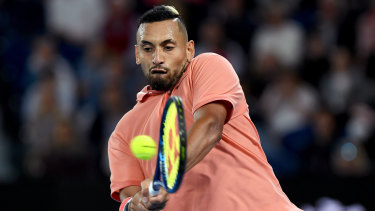 Kyrgios bounces back and breaks Nadal's serve. He lets out a huge raw to pump himself up. It's 5-5 in the fourth set. 
Jim Courier says Nadal is fierce at breaking back if he's broken, so Kyrgios is not out of the woods.