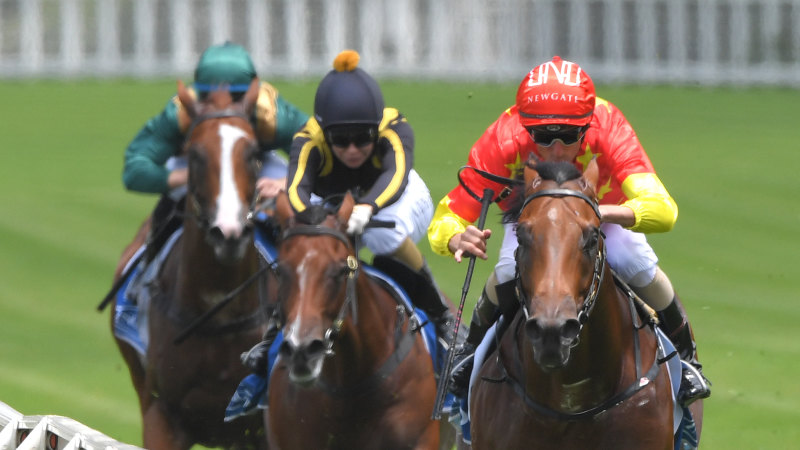 Yes, horses have gone around to the barrier at a strong tempo and won. Once, trainers instructed jockeys to give them gallop "over a furlong" en route to the gates, but that was in a tougher type era when horses also could also back up in two races on the one program. Certainly two-year-olds didn't come into either category.
The fact Mount Fuji was beaten so far, finishing in a distressed state, must concern connections, but has a parallel with the champion Kingston Town, who made his debut at Canterbury on March 12, 1979, also as a two-year-old.
Loading
Trained by Tommy Smith, Kingston Town was around Mount Fuji odds, $6, and also finished last. Smith took the rectifying step of having him gelded. Kingston Town won his next seven starts.
Of course, the Smith policy was geared towards great racehorses, not stallions, which is obviously the issue with Mount Fuji. His purchase price illustrates why yearling sales are the turf's four-legged lottery.
"Some high-priced yearling purchases since September 2019" listed in Miller's Guide is a confirming influence. Leading them is Groundswell, a $2.3m buy, who has earned $1750 to date. Just one in this top 10 so far, Estijaab ($1.7m), has topped her purchase price with $2.5m due to a Golden Slipper triumph.
But Rulership, with Rawiller replacing Hugh Bowman, looks a budding top-liner although no more so than Hanseatic, Saturday's two-year-old winner at Caulfield.
Alas, following his victory on Rulership, Rawiller ran into trouble. Stewards questioned him about his ride on Mushaireb, runner-up in the Food Services Handicap. Co-trainer Michael Freedman "expressed surprise with the genuine early tempo set by the gelding, particularly in circumstances whereby it was stepping up in distance and carrying additional weight, as this was not consistent with the instructions that were issued."
Rawiller ended the program on Superium, the $1.85 favourite, who could finish only fifth. No pilot criticism here. Only a tow-truck could have made him go faster.