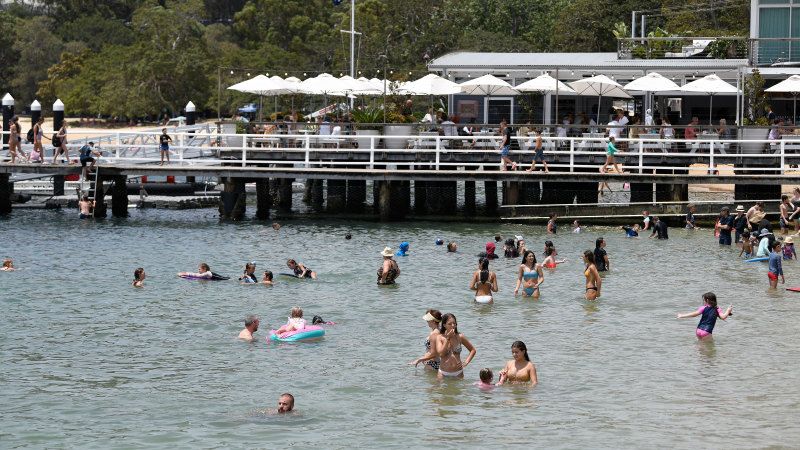 "It's not so much how hot will it get as how cool won't it get."
Temperatures are forecast to remain at 25 to 26 degrees at the lowest throughout Saturday night and Sunday morning. But Ms Barr noted the forecast was evolving and a cold front could change in terms of position or intensity.
"At least through until Saturday, we're likely to see minimal rainfall across Sydney," she said.
Smoke from bushfires and dust from the state's west are unlikely to affect the Sydney basin as they did last week.
"While dust storms and dusty conditions are quite common in western New South Wales, it takes a lot to bring it across to Sydney as we saw on Thursday or Friday of last week."
It's "unlikely" that the state's fire-affected areas will see much rainfall either, she said.
The Southern Ranges area of NSW will have a total fire ban on Tuesday. It is one of six areas in the state with "severe" fire danger ratings.
Sydney's fire danger has been rated "high". Most of the west and northern parts of the state are at "low-moderate".
Rural Fire Service spokesman Greg Allan said it was likely there would be more total fire bans and higher fire warnings later in the week.
"Although we've seen rainfall in parts in the last week we're now starting to see temperatures and winds increase, coupled with the ongoing dryness of the land," he said.
Crews are still using favourable conditions to strengthen containment lines, but will have less time when temperatures are milder to make significant inroads.
"Backburning will be done where we can, but it really does depend on the conditions," Mr Allan said.
There were 1300 firefighters and support staff in the field on Monday, fighting 56 active fires. More than 80 aircraft and more than 300 vehicles were in use.
Matt Bungard is a journalist at The Sydney Morning Herald.
Most Viewed in Environment
Loading