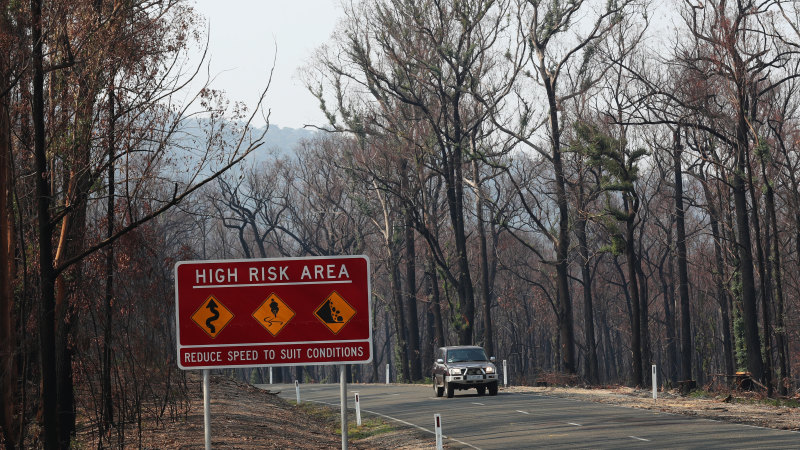 State response controller Gavin Freeman said there are concerns about new fires being ignited once vegetation is dried out further, which would put weeks of fire preparation "to the test".
"With the thousands of kilometres of fire edge we've still got, there's a lot of work to be done before Thursday," he said.
"There's a bit of comfort in the north-east, the fires have calmed down significantly. We're not calling them controlled though.
"But Gippsland is another story, there's fire edge we physically can't get to, so we've been focusing on strategic containment lines to stop it spreading further."
He said fire crews would be pulled back from active bushfires around Thursday morning, as the danger and volatility of blazes increases.
More than 1.5 million hectares of land has been burnt during the state's bushfire season. The death toll remains at five, with 405 residential buildings and 653 non-residential buildings damaged or destroyed in Victoria.
The Great Alpine Road was reopened on Monday, while holidaymakers who were stuck in Mallacoota over the new year period were able to return to the town and retrieve their cars and caravans yesterday.
The bureau's senior forecaster Richard Carlyon said residents in East Gippsland and the state's north-east should be "on alert" for fire risk due to the high temperatures at the end of the week.
"It will come down to wind. On Thursday there's not much wind expected for East Gippsland, there will be sea breezes on the coast. But the wind will kick up a little on Friday."
As temperatures are expected to be humid, dry lightning that has sparked a significant number of fires this bushfire season will not occur, he noted, but there's still a fire risk from normal lightning.
"The state's west will probably cop the heaviest rain, the activity might weaken as it moves eastwards, so not that much rain in East Gippsland to help with the fire situation, but there will still be storms in every district.
"With the predicted hot weather, storm activity and cool change, best to be on alert in those areas, and in fact, right across the state."
By Wednesday, Melbourne's air quality will have dropped back to "moderate", according to the Environment Protection Authority's AirWatch.
Loading
Six advice messages remained in place on Monday morning, covering much of East Gippsland, areas around Mount Buffalo and Corryong on the New South Wales border.
"We know the community is a bit over it – both the fires and messaging – but we want people to continue to work with us," Mr Freeman said.
"If you're travelling around the state, that's a good thing, but if you're in an unfamiliar area be aware of the fire conditions and restrictions."
Victoria's bushfire toll
Five lives lost
10 fires still burning across the state
1.5 million hectares burnt so far this fire season
405 residential buildings and 653 non-residential buildings have been damaged or destroyed
Ashleigh McMillan is a breaking news reporter at The Age. Got a story? Email me at a.mcmillan@theage.com.au