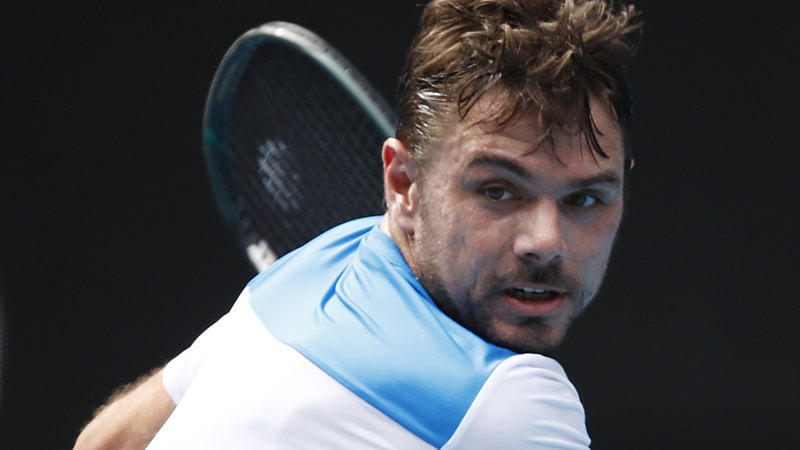 He knew two things: he had the guile and confidence in his game; he also had the mental strength to prevail and Medvedev – at least on this day – did not.
"I am having to find a solution," Wawrinka said explaining his head tap.
"I was losing confidence in the second and third sets … I had to stay with it and stay strong."
Wawrinka had won the first set comfortably 6-2, then his serve dropped away in the middle stages and he could make no inroads on Medvedev's serve. The match seemed to drift from him until he gathered momentum in the fourth set. Once it went to a fifth set the prospects shifted signficantly to Wawrinka – Medvedev had never won a five-set match, Wawrinka had won 34.
Wawrinka will next play German Alexander Zverev, after the seventh seed qualified for his first major quarter-final on a hard court by defeating Russian Andrey Rublev on Monday night. Zverev breezed past the in-form Rublev – who entered the Melbourne Park clash undefeated in 2020 – 6-4, 6-4, 6-4 in just 96 minutes.
Earlier Gael Monfils had attempted Nick Kyrgios inventiveness to conjure something as the match slipped from him. Call it the Kyrgios Effect at this Open.
First, Novak Djokovic tried a tweener. It didn't work. Then Monfils used the underarm serve. He was down a set against Dominic Thiem and battling when he sharply flicked an underarm serve into court. Ace.
Kyrgios drew the opprobrium of some for his underarm serves that catch opponents off guard. But in Monfils he evidently drew admiration.
The Frenchman won the point but not his match going down to the fifth seed in straight sets.
The underarm serve reflected the fact that Monfils had to try everything against Thiem, for nothing orthodox was working for him.
Nor was the balletically unorthodox. He jumped for one ball high at the boards at the end of the court and hit the ball with a backwards backhand while facing – and looking – in the opposite direction. The ball went in. But he lost the point.
Thiem now advances to the quarter-finals, quietly playing the sort of tennis that has seen him make the final of the last two French Opens and the quarter-finals of the US Open in 2018.
Thiem's recent successes have been built on another sort of inventiveness – his mum's tatts. Thiem explained that last year as he was struggling for form his mum told him on the way to Indian Wells that if he won she would get a tattoo. He won. She now has an eagle's feather (out of recognition of where he won) inked on her. Then he won in China and she now has a panda to go with the feather.
Were he to win here his mum will be getting a kangaroo tatt. He figures it a mixed blessing.
Michael Gleeson is an award-winning senior sports writer specialising in AFL and athletics.