That's it for tonight's live blog action!
What unforgettable performances we've witnessed on day 9 of the Australian Open with Barty through to the semi-finals, Federer's miraculous comeback and Djokovic's class among the highlights.
Don't miss all the action tomorrow with big names including, Halep, Muguruza, Zverev and Nadal all in action.
We hope you've enjoyed our live coverage!
After downing Canadian Milos Raonic 6-4, 6-3, 7-6 (7-1) Djokovic is through to his eighth Australian Open semi-final.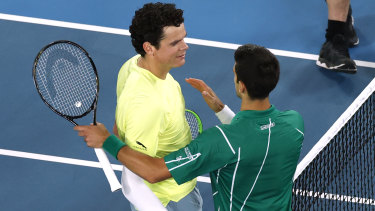 The second seed will meet Roger Federer – it will be the 50th time they play each other.
Djokovic has has a much smoother run than Fed, who today pulled off a miraculous comeback over Tennys Sandgren in five sets, saving seven match points along the way.
While Federer suffered a groin injury, you can never write off the superstar.
"The match-ups against Roger and Rafa have made me the player I am today and I'm grateful," Djokovic told McEnroe after his match.
"I hope I get to at least one match point.
"It was quite amazing what he did today."
Bring it on!
In his post-match interview with McEnroe, Djokovic was again wearing his tracksuit featuring Kobe Bryant's initials and a heart after the basketball star died in a helicopter crash. 
McEnroe asked him about the star, and Djokovic became clearly emotional, choking up as he spoke about it.
'He was one the greatest athletes of all time. He inspired myself and many other people around the world," Djokovic said.
"I had the fortune to have a personal relationship with him over the last ten years."
An emotional Novak Djokovic teared up tonight after his quarter-final win, when asked about the death of basketball legend Kobe Bryant.
The defending champion told John McEnroe about his personal relationship with the star. 'He was there for me, he was my mentor, my friend."
"It's just heartbreaking to hear and see what has happened to him and his daughter."
Djokovic had to take a moment to compose himself as he became clearly emotional.
Earlier, he wore Bryant's initials on his warm-up top when he came onto Rod Laver Arena.
Djokovic wins in straight sets. He controlled the tiebreak and took it out 7-1.
Todd Woodbridge described the win as 'clinical'.
Joker controlled the Canadian's big serve throughout, and returned in a most remarkable fashion.
Bring on the semi-final against the Fed!
Djokovic in command of this tiebreak. He takes on the Canadian's serve and hits a blistering return.
'The return of serve was back on Roanic's shoelaces before he knew it," says Hewitt.
It's 4-1 to Djokovic.
After Joker holds his serve comfortably, we are 6-6 and into a tiebreaker.
Raonic loses the first point on his serve. The Serbian is now serving. 
It's 2-0 to Djokovic.
Raonic is not letting go. 'Milos keeps backing himself, he's going after it,' says Lleyton Hewitt as the Canadian battles it out on his serve. He has saved four break points.  It's 5-5 in the third.
'He's digging deep, trying to hang in there..turn this thing around,' says McEnroe.
This game has been going over 10 minutes.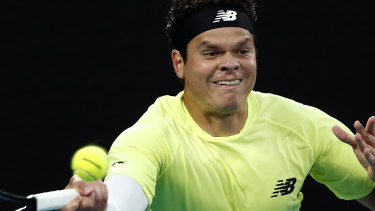 Turns out that the rules state that if a player has glasses or contacts and they are a necessary part of the game, the player is allowed a reasonable time out if they need to readjust them.
Djokovic had a medical time out to fix his contacts. Raonic was not impressed.
Some amazing cross court shots and a short slice by Djokovic gives him the game.
Although he has now levelled the set at 5-5, he still looks a little unsettled after his eye issue.