But it now appears the plan to build the peace park could collapse entirely.
In emails to Peace Park Association colleagues, Mr Napoli, who did not respond to requests for comment from the Herald and Age, states: "I have explained [to owner's representative Lila Tania and local tourism boss I Made Badra] I will report to the PMO on progress by mid-February.
"I have explained the bushfire situation has taken any political interest away from the peace park project. In fact, the exorbitant price sought will raise debate as to why we are spending that money on a disaster in Bali when we have one here.
"I have told them that funds cannot be guaranteed beyond the current financial year. In view of the current crisis in Australia, I would not be surprised if the PM withdrew his offer if a deal was not in place by February this year."
For its part, the Morrison government has never publicly put a time frame on the funds.
Loading
In subsequent messages between Mr Napoli and Lila Tania, Mr Napoli repeatedly made the point the Australian government "will not consider payments until a legal contract is drawn up" and that one of the owners of the site, Sukamto Tjia, has not responded to the association's offer.
Owner's representative Lila Tania wrote that payment for the land should be made "immediately" – despite the fact no contract of sale has been drafted.
Her request also comes before the question of a $6 million funding shortfall is resolved. Parties involved in the negotiations hope the local mayor (Bupati) will commit to contributing the $6 million funding shortfall that exists now the owners have hiked the price and size of the land.
I Made Badra, the head of the Badung tourism department who has attempted to bring the two parties to a deal, was tight-lipped about progress in the negotiations.
"The number [land price] is not fixed yet," he said.
Asked what would happen if the Australian government walked away, and whether the Bupati would contribute to the project, he said: "I can't comment, I am waiting for instructions from the Bupati."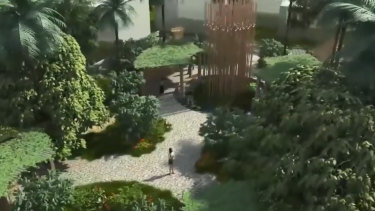 A spokesman for Mr Morrison said the government "has for many years lent support and assistance to the negotiations and will continue to do so."
James Massola is south-east Asia correspondent based in Jakarta. He was previously chief political correspondent, based in Canberra. He has been a Walkley and Quills finalist on three occasions, won a Kennedy Award for outstanding foreign correspondent and is the author of The Great Cave Rescue.