We will see you later this morning for women's semi-final action (Ash Barty shoots for the final), followed by Federer vs Djokvic in the evening. 
"A really mentally tough situation, couldn't handle it [serving for the match], but turned it around in the tiebreaker," Thiem said. 
"Feeling good so far because I am full of adrenalin. Full of happy moments."
Thiem will play Zverev in the semi final on Friday night.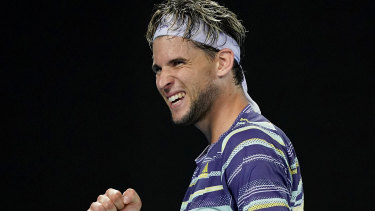 "All the match was on a very good level I think we are both in great form," Thiem said. 
"We already had this epic match in New York two years ago and today I had the feeling I was lucky in the right situation … it is necessary because he is one of the greatest of all time. 
"You need some luck to beat him."
Thiem wins 7-6, 7-6, 4-6, 7-6. It took three tiebreakers to separate these two men who played some brilliant, enthralling tennis across four hours tonight.
It's his first grand slam semi final that isn't the French Open. A wonderful breakthrough moment for the 26-year-old.
He lost who knows how many match points. But finally he beat Rafa. What a match. 
The second he saved with an incredibly risky challenge. But he was right. The ball was out. 
Nadal is refusing to go away and Dominic Thiem is shaky and nervous and doing everything not to win this tiebreaker and therefore the match. 
The change of ends sees Thiem in the lead. He won the fourth point with a deep slice which sent Nadal scampering after he came to the net. 
Both guys have mini-broken each other. The tiebreaker, like the rest of this match has been topsy turvy AND tense. 
Nadal playing to stay in the Australian Open, Thiem playing to make the semi final.