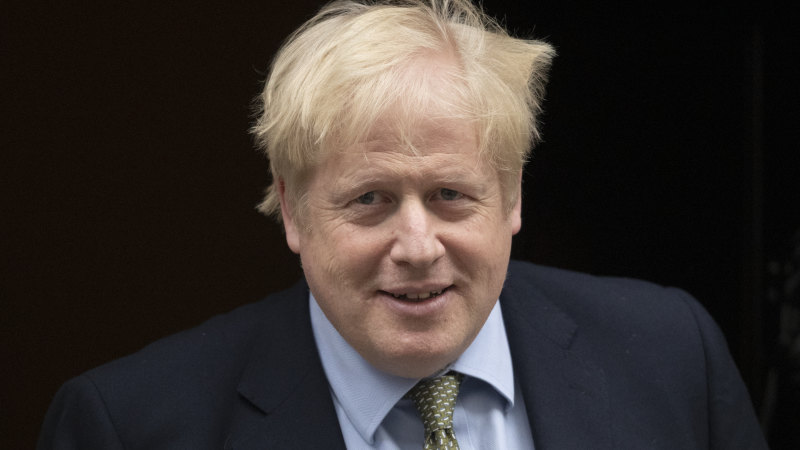 Pompeo said the British had put their system at risk by involving Huawei.
"We will make sure that when American information passes across a network we are confident that that network is a trusted one," he said. "Our view of Huawei is: putting it in your system creates real risk."
Johnson is facing a Tory rebellion on the decision to allow Huawei to supply up to 35 per cent of the country's antennas and masts required for 5G, which will not only be superfast, but also connect everything from household appliances to traffic lights and driverless cars.
Bill Wiggin, a Conservative MP used Prime Minister's Questions to press the prime minister.
Loading
"What plans does he have to convince the US Secretary of State that the Huawei deal is safe not only for our constituents but also for our allies?" Wiggin asked.
Johnson insisted involving Huwaei would not lead to Britain being cut off from the Five Eyes.
"It is absolutely vital that people in this country do have access to the best technology available but that we also do absolutely nothing to imperil our relationship with the United States, to do anything to compromise our critical national security infrastructure or to do anything to imperil our extremely valuable cooperation with Five Eyes security partners," Johnson said, in his first comments on the decision.
Johnson is due to meet Pompeo in London. US Donald Trump has notably stayed quiet on the issue, amid fears the UK decision would provoke an angry response from the President.
Loading
But the former head of Australia's Signals Directorate penned a blistering article slamming the British decision as wrong and based on faulty security advice.
At issue is Britain's insistence that the "core" of the network which handles data transfer can be separated from the "edge" of the network like radio masts as is the case with 4G.
The UK's National Cyber Security Centre insists the separation will be maintained under 5G, meaning the core or data transfers can be protected.
Simeon Gilding a top figure at the Australian Signals Directorate which provided the advice for the Turnbull government's ban said this was wrong.
"The hyperconnected, transformational 5G future marketed by the telcos can only be realised if there is no distinction between core and edge," he said in a detailed article for the Australian Policy and Strategic Institute.
Gilding said even in this environment, the main threat was not interception which could be prevented by strong encryption, but by a hostile takeover of the equipment to divert or shut down the network.
with AP
Latika Bourke is a journalist for The Sydney Morning Herald and The Age, based in London.