Unions representing blue and white collar workers will tell workplace health and safety delegates to stop work when the Environment Protection Agency's air quality rating reaches "very poor", the level at which EPA advises people to stay indoors.
Victorian Trades Hall Council secretary Luke Hilakari said it was time employees took their health and safety into their own hands.
"For months workers have been carrying out non-critical work outdoors when air quality is very poor to hazardous due to bushfire smoke," he said.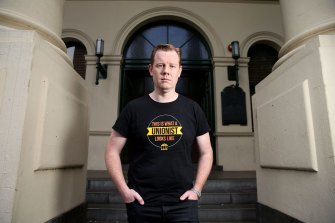 "That's unacceptable. We've decided to do something about this."
"On Friday, the EPA's air quality in central Victoria, including Melbourne, is forecast to be poor – we're saying that working people should not have to carry out strenuous outdoor work when air quality reaches very poor."
Loading
The push brings the unions' policy in line with the CFMMEU, which halted work on construction sites in mid-January when bushfire smoke shrouded Melbourne's CBD.
The directive calls for non-critical work to be moved indoors where possible. For critical work, like firefighting or safety checking trains, unions want workers to be given protective masks and proper training on how to use them.
Beards, sweaty faces and face shapes that don't fit off-the-shelf masks can cause air to travel through the sides of a mask, making it ineffective.
Unions involved in the policy include the blue collar unions that represent construction and manufacturing workers – the CFMMEU and The Australian Workers Union – and unions that represent many government and council employees including garbage workers and public transport staff – the Australian Services Union and the the CPSU.
Under Victorian legislation, health and safety representatives are able to call a stop work on behalf of a group of workers "if the issue concerns work which involves an immediate threat to the health or safety of any person".
Health authorities have warned of serious health effects from prolonged periods of exposure to smoky air.
Hospital admissions for respiratory problems spiked on days that air quality deteriorated this summer, and a recent Sydney University study found there was "no safe level" of exposure to smoke pollution and a significant association between cardiac arrest and exposure to fine particles.
"No one knows the long term health effects, but we know it is bad and we know it's dangerous," Trades Hall OH&S boss Paul Sutton said.
"We know that if you have diabetes, a respiratory condition or a heart condition, you're in real trouble with this stuff. And employers often don't know who those people are."
Paul is a reporter for The Age.