During a scuffle, Mr Koutras claims he was hit in the head with the butt of a gun by one of the robbers.
The 56-year-old was also hit by a bullet in the groin or abdomen, according to a statement of claim filed in the County Court.
Mr Koutras was taken to hospital where he had surgery to remove bullet fragments.
Police believe the offenders were able to flee with the help of a waiting getaway driver.
It is alleged that Hawthorn should have known that the venue, which brings in more than $10 million a year for the club, was vulnerable to violent crime.
The Dandenong pair claim that Hawthorn failed in its duty of care by not improving safety after a previous heist in November 2012.
A complaint to management about security arrangements in the months before the robbery was also ignored, the writ states.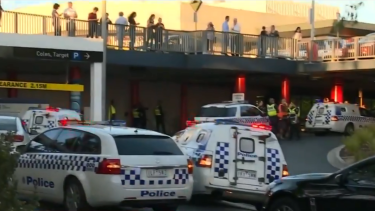 Inadequate CCTV cameras, insufficient security staff and a failure to contact police when the robbery began are listed in the lawsuit as reasons for financial damages.
The venue's layout, including easy access to the cashiers area, was also cited.
Both Mr and Mrs Koutras claim they were left with post-traumatic stress disorder, anxiety and depression.
Patron Rocco Bertucci witnessed the attempt to restrain the robbers.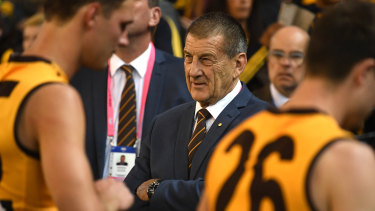 "After a few seconds half a dozen guys tried to storm him, they threw a billiard cue at him and he stormed out and then as I was running out I heard a shot," he told Nine News at the time.
Hawthorn president Jeff Kennett has defended his club's reliance on poker machines, stating that the club wouldn't be profitable without gambling.
He has also argued that divesting from pokies would result in new owners less concerned with quality of service.
The venue is about one kilometre from the Hawks training ground and headquarters at Waverley Park.
Loading
Hawthorn has the highest poker machine revenue of all AFL clubs, raking in $24.7 million in losses by punters in 2018/19. As well as 75 machines at Vegas At Waverley Gardens, Hawthorn has a further 90 at West Waters Hotel in Caroline Springs.
Football's dependence on slots has drawn criticism from community groups, with Collingwood, Geelong, Melbourne and the Western Bulldogs all committed to ditching pokies.
Two people are still wanted for their part in the robbery. A 44-year-old Endeavour Hills man was arrested in September last year and charged with armed robbery and conduct endangering life.
Lawyers for the plaintiffs were contacted but declined to comment.
A spokesperson for Hawthorn said the club was aware of the legal claim but it would not be making any further comment while the matter was before the courts.
Tom Cowie is a journalist at The Age covering general news.