Thanks so much for following along tonight and I hope you will all join us for the women's and men's finals to come over the weekend.
Before I go here is a ripping picture of the two lads embracing after tonight's match.
The contest goes for three hours, friendships last a lifetime.
Have a wonderful evening!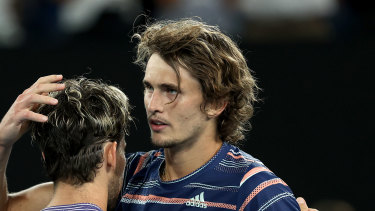 Peter Ryan has all the big moments from Dominic Thiem's four-set win over Alexander Zverev tonight.
Here is McEnroe's rather long post game chat…..
The Austrian star was esctatic to make his way into the final after such a torrid quarter and semi final…..
On making the final:
I think they all just showed what it means to me. Two tiebreaks, it was almost impossible to break him.
Making the Australian Open final is unreal. What a start to the season so far!
On his first set:
It's not easy. I was playing four hours, 10 minutes against Rafa. I was in bad at 5am a few days ago, it was not easy to recover.
It was fun tonight. Both were nervous. It was a tough start for me.
On the second set:
In a grand slam semi final, the levels are so high and key moments so many. 
His smash was maybe the shot of the tournament.
On the break for broken lights, hearing Sweet Caroline:
I felt I was on Austria on a ski holiday as they play that song all the time.
On the third set:
I'd rather be up 2-1 after three sets than down (LOL).
On making so many tiebreakers:
It's always 50-50. I lost my first one in the second round. I've got to some early leads and that makes a difference.
On rubbing his belly:
My stomach wasn't handling it well. It was rebelling a bit. 
On Zverev:
I know he worked so hard in the preparation week. He's a great player. This tournament is a big break through for him. Either of us could have won this tonight, maybe it was a little bit of experience that helped me. It won't be long until he's into a grand slam final.
On Novak: 
I always have to play the kings of these grand slams. Rafa in the French Open, Novak here. 
If I lose than I have to be patient.
Thiem lost his lead after two huge plays from Zverev but he battled his way back into the lead to pick-up three match points.
Zverev saved one with an ace but after a great rally Thiem won it with a brilliant volley.
They hugged at the net. It's all love between these two.
Thiem was just that little more polished in the pressure moments. 
He won it 3-6, 6-4, 7-6, 7-6.
Thiem won the first point and then Zverev gave up just the third double fault this match to make it 2-0. Thiem won the next one, after a challenge, it's 3-0.
The Austrian is a couple of points from the final! 
We will go to a tiebreaker!
Zverev served fearlessly that game and Thiem never had a chance!
Thiem is up 6-5 and the equation of this game is a simple one.
Thiem breaks Zverev and wins through to the men's final.
Or Zverev holds and we go to the second tiebreaker of the night.
I'm tipping tiebreaker but Thiem is irrepressible. He will give himself a shot. 
Zverev jumped out to 40-15 then lost a few points and was forced to deuce but he never let Thiem have a match point instead slamming down an ace and then handling the next point to make it 5-5.