Racing Victoria has been forced to abandon Friday night's Moonee Valley meeting due to the extreme heat, making it the eighth full meeting lost this summer.
Racing Victoria's racing operations manager Paul Bloodworth said the cost to the industry would be significant.
"It's a difficult one to outline, in as much that clearly when we lose a race meeting there's no prizemoney paid out and that impacts our participants, trainers and owners," he told RSN radio.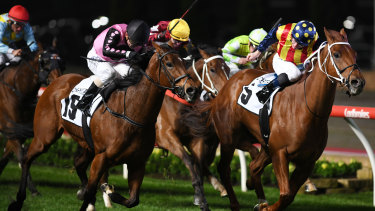 Let's take a moment to think of our country counterparts.
In Hopetoun, four hours north-west of Melbourne, the mercury has hit 41.9.
In Swan Hill it's 41.8 degrees, while in Mildura it's 39.6.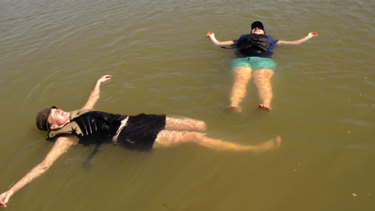 The heat will be met with possible flash flooding and muddy rain from late today.
The increased humidity combined with extreme heat will create tropical oppressive weather that will make Melbourne feel more like Darwin.
Come Saturday, thunderstorms with possible heavy rain, damaging winds and large hail are likely during the morning.
Many people are enjoying the weather bureau's use of the word "sultry" to describe tomorrow's forecast.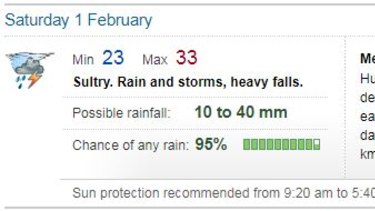 It's stinking hot out there, but the cloud cover is offering some reprieve.
But the bureau's senior forecaster Tom Delamotte says the clouds are expected to clear in the next hour or so, and the mercury will really soar after that.
"It's just plateauing a little bit a the moment," Mr Delamotte says.
Right now, Avalon is the hottest place near Melbourne at 39.3 degrees. In Moorabbin, it's 37.1.
The city is full of hi-vis gear as construction workers head home due to the heat.
The construction union's EBA states that it's too dangerous to work in anything over 35 degrees.
Building sites go by their nearest observation station, so some tradies may still be working away across Melbourne.
This is how quickly a bushfire can overrun you. Within three minutes, fire crews at Shoalhaven in NSW went from setting up their trucks to fleeing for their lives when the wind changed.
Emergency Services Minister Lisa Neville said current blazes are expected to become more active and there is a high risk of new fires starting.
"The west of the state, where we haven't had fires, it is incredibly dry … and the risk of new starts will be significant," she told reporters on Thursday.
Parks and walking tracks across Victoria are closed due to the heat and fire ban today, including the 1000 Steps in the Dandenongs and the Kokoda Memorial Walk.
What's closed
Alfred Nicholas Memorial Garden
George Tindale Memorial Garden
Dandenong Ranges Botanic Garden
Pirianda Garden
RJ Hamer Arboretum
William Ricketts Sanctuary
Mt Dandenong Arboretum, the former Olinda Golf Course
Dandenong Ranges National Park (including 1000 Steps – Kokoda Memorial Walk, One Tree Hill Picnic Ground, Sherbrooke Picnic Ground, Grants Picnic Ground, Doongalla Homestead Picnic Ground, Olinda Falls Picnic Ground)
Black Hill Reserve
Perrins Creek
Sassafras Creek Nature Conservation Reserve
Silvan Reservoir Park
Energy Minister Lily D'Ambrosio says power generators are coping right now, but bushfires could put strain on the system.
She says a generation unit could fail with little notice. 
'We've got ageing infrastructure in Victoria. We know that.'

Energy Minister Lily D'Ambrosio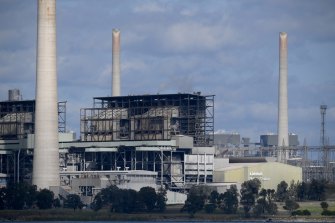 Be prepared for the possible power outages this afternoon with this handy list:
Prepare an emergency kit in advance, including bottled water, tinned food, a radio, torches, batteries and a first-aid kit.
Switch off all electrical appliances, especially those that have heating elements and unplug 'surge-sensitive' equipment, such as computers.
Check on your neighbours to see if they need assistance, particularly if they are elderly or have a disability.
Torches are much safer sources of light than candles.
Try to keep cold and frozen food cold. If food is still cold to touch, less than 5 degrees, it is safe to use. Once cold or frozen food is no longer cold to touch, it can be kept and eaten for up to four hours and then it must be thrown away. If power is restored when frozen food is still cold to touch, the food is safe to refreeze.
Don't attempt to resolve any electrical issues, such as installing a temporary generator or conducting repairs yourself – it is unsafe and illegal. Always engage a licensed electrician to do electrical work.
Sources: Better Health Channel and DELWP
Melbourne Airport has confirmed it is operating just one runway this morning due to the strong northerly winds.
Expect long, long delays if you're travelling today.