It's started raining in Melbourne,  and it looks like some more of that red dust has been hitching a ride in the water droplets. 
This is the part of the blog where I ask for your rainy weather pics – please send them through to me at craig.butt@theage.com.au 
Fire authorities are warning that the fire season could easily stretch onto April, with "enormous potential" for fire to affect more communities over the next few months.
While much of the edge of the 1.56 million hectares burnt in Victoria has self-extinguished, the hot spots are still able to catch alight on hot days, according to State Response Controller Chris Hardman.
"There are still lots of communities at risk from these fires such as Deddick Valley, and from Marlo all the way through to Lake Tyers on the coast," he says.
"Last year we were fighting fires through February, March and to April. It's still really important for these communities who have been facing these fires for far too long to not assume we're at the end of something.
"We're actually at the very beginning of our bushfire season."
Mr Hardman says the Victorian fires will rage until "significant, sustained rain" is received.
This map shows where it has rained in Victoria since 9am. Each dot represents a weather station: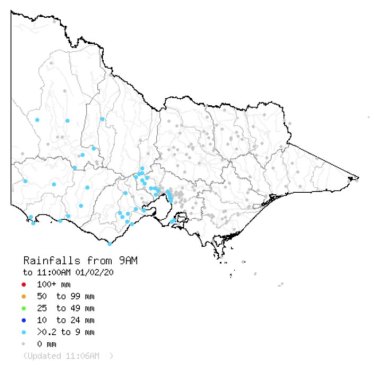 At this stage there has been some light rainfall at some stations in the western and central regions, but expect those totals to increase in the next few hours.
The weather bureau expects the cool change to reach the city before midday, and when it does it should bring at least 20 millimetres of rainfall with it. 
State Control Centre's Chris Hardman says the relative humidity wasn't as high as they were hoping it would be, which meant fires were still very active overnight in places like Wulgulmerang and Bendoc, along the state's border with New South Wales.
"We didn't get the moisture we were expecting," he says.
"There was some really good work by firefighters near Cape Conran, which stopped those fires progressing in a westerly direction near the Cape Conran Air Base. But there's still potential for those fires to run today."
Three areas in Victoria remain under 'Watch and acts'. People in Wulgulmerang and Bendoc are being urged to leave the areas because of bushfires that are not yet under control.
Meanwhile, those in Cape Conran, outside Orbost, are being urged to keep tabs on weather conditions in case a bushfire there worsens. 
The 'Watch and act' warning areas show up in orange on the map below: 
The Environment Protection Authority has issued its air quality forecast for today. Very poor air quality is expected for fire-affected East Gippsland and the dusty Mallee region of the state's west. 
In Melbourne the air quality forecast is set at 'moderate', which means it is okay to be outside. There were fears yesterday that air quality could drop to poor in the city if the cool change brought a dust storm with it, but the weather bureau says this is no longer likely. 
There are fresh concerns for the town of Mallacoota, with a nearby fire on the tip of the state potentially going to head towards the beachside town.
State Response Controller Chris Hardman says a fire at Cape Howe could swing around toward the town and produce significant smoke and ember attacks.
"It won't directly impact Mallacoota, because it's on the other side of the lake from the township, but residents could see significant smoke and the possibility of some embers landing into the community," he says.
"It's going to be challenging and stressful for those who have already been through so much in that area."
Mallacoota residents have been through enough in the past month or so without having another fire to think about. Here is our timeline of how the fire crisis unfolded in the area last month, culminating in an unprecedented navy rescue by sea. 
I asked the weather bureau earlier if last night broke any humidity records for Melbourne but wasn't able to get an answer.
I get the sense that humidity is not something like rain or temperature, in which the records are much more readily available, so it's not going to be easy to quantify. 
But there are certainly a lot of people on social media this morning who are complaining about the mugginess and how they didn't get a particularly good night sleep last night – which is surely one metric of how humid it was. 
A grass fire in Myrniong, which at its peaked sparked an emergency warning for residents for three towns near Bacchus Marsh to evacuate the area, has been declared safe. 
Weather bureau senior meteorologist Dean Stewart says a cool change should pass through Melbourne between 11am and midday, bringing some heavy rain with it. 
It's 29.3 degrees outside at the moment, but once the change blows in from the west temperatures are expected to drop to the low-mid 20s, he said. There's also a chance of thunderstorms and heavy rain, with at least 20 millimetres and maybe as much as 50 millimetres expected for some parts of Melbourne.
But while there is some dust in the atmosphere at the moment, it's not going to be a repeat of last week, when the rains were accompanied by a layer of orange dust. 
"We're not expecting a dust storm in Melbourne," Mr Stewart said, although he added that some light rainfall overnight would have given cars parked outdoors a light dusting. 
Up to 40 millimetres rainfall is on its way, and severe rain and storm warnings are in place for much of the state. All we can do now is wait and see what the cool change brings. 
Here is the wrap from Nine News on the weather risks the state is facing today.