Thanks for joining us today, January 31, on what was a wild day of weather even by this city's standards. Please join us again tomorrow.
Melbourne fell just shy of its forecast max, reaching 42.9 degrees just after 3pm.
Avalon notched the highest temperature in the city, reaching 44.3 degrees just before 3pm.
Most of the city received less than 1mm of rain. A short-lived downpour fell sideways in the CBD in the late afternoon, coinciding with strong gusts.
Wild winds lashed the state, including 147km/h recorded in Port Phillip Bay, the second quickest wind ever recorded in Melbourne.
More than 26,000 homes were without power at one stage, after six powerlines downed by heavy winds caused a shortfall in energy supply. This number is now closer to 20,000, but more power outages may occur tonight.
It's forecast to be a hot and humid night. The temperature will hover in the mid-to-high 20s overnight, before dropping to 19 degrees by 2pm tomorrow.
Heavy rain could fall tomorrow morning.
Pop legend Elton John's show in the Yarra Valley was cut short by torrential rain this evening.
About 95 minutes into the set, a heavy downpour at the Rochford Wines venue in Coldstream caused damage to musical instruments and monitors on stage.
The show was part of the Day on the Green festival.
"We too are upset about the impact of the weather on tonight's show," the organisers wrote in a Facebook post.
"Please hang on to your tickets to await further information.
"As soon as we have any further details we will let you know."
Two emergency-level fires that were burning out-of-control have been contained by fire crews, leaving only one fire at emergency level.
A fire near Bacchus Marsh and one in Bendoc, near the NSW border, have been downgraded to watch-and-act level.
The fire at Cape Conran is still not controlled, but residents are no longer being told to flee their homes.
After losing power for three hours, the Portland aluminium smelter is backline online.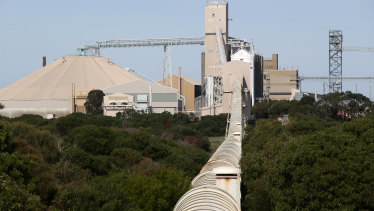 Downed transmission lines caused power to be cut off from the smelter from 2.30pm until about 5.30pm.
A spokesman for the smelter's owner, Alcoa, confirmed that both pots, which hold aluminium, are restored and operating at about 55 per cent of regular capacity.
Not even the sporting temple of the MCG is safe from tonight's winds.
Australian superstar Steve Smith was batting for the Sydney Sixers in their Big Bash semi-final against the Melbourne Stars when he appeared to hit his own wicket. Or did he?
A referral to the third umpire determined that, while Smith's backside got close, it was the wind that knocked off the bails.
Smith lived to see another day, but was dismissed shortly after for 24. The Sixers are 126/6 after 18 overs.
The number of Victorian homes without power has surged in the last hour, with over 26,000 now lacking electricity, mostly in Melbourne.
Supplier AusNet, which covers the eastern part of Melbourne and Victoria, has 17,675 customers currently without power.
Powercor has over 8000 customers without supply, United Energy has 1025 in Dandenong and the Mornington Peninsula and Jemena has thousands, with inner-north Melbourne suburbs such as Coburg, Preston and Reservoir most recently hit by powers cuts.
AEMO warned earlier that load shedding may be required tonight but would be an "absolute last resort". We've passed the worst of the heat, so fingers crossed.
The market operator is urging households to power down appliances to reduce demand for energy and ease strain on supply.
Energy provider AusNet confirmed that a storm north of Colac brought down six transmission towers.
The incident resulted in separation between the Victorian and South Australian power grids at the Heywood Interconnector, and caused power to be cut to the Portland aluminium smelter.
A spokesman for AusNet said it would "take some time" to repair the transmission towers "given the extent of the damage".
"We have already accepted offers of help in this from Transgrid, Electranet and TasNetworks," said the spokesman.
Frustrated (and hot) train passengers are taking to social media to vent about a train on the Frankston line that they say did not move for over 30 minutes.
One posted to Metro Trains on Twitter about 6.20pm: "Do you mind putting on the air-conditioning? We are … stuck on the Frankston line for the last 30 min and it's 41C outside:"
We contacted a Metro Trains spokesman, who confirmed that police at Seaford station requested all trains on the Frankston stop about 6.20pm.
The spokesman said that was cleared 10 minutes later. There are also 15 minute delays on the Frankston, Cranbourne and Pakenham lines due to an equipment fault.
Those two coupled together may have caused some backlog, but trains are now moving again.
Two trains have also been cancelled on the Mernda line from the city due to a "driver resourcing issue".'
Victoria's Energy Minister has confirmed that power outages may occur tonight "with little or no notice".
Earlier, the Australian Energy Market Operator issued a public notice advising that load shedding, or rolling power outages, may be required in both Victoria and NSW.
In a tweet, Ms D'Ambrosio confirmed that storms, which she described as "extraordinary", brought down transmission towers in Western Victoria. 
The fallen transmission towers caused power to be cut to the Portland aluminium smelter and cut off energy supply from South Australia.
Residents in three towns near Bacchus Marsh have been told to flee their homes immediately as an out-of-control fire burns.
An emergency warning was issued at 6.35pm for Ingliston, Myrniong and Pentland Hills for a grassfire at Myrniong.
The grassfire is travelling from Pentland Hills Road in a south easterly direction towards Bacchus Marsh.
Properties on Pentland Hills Road could be impacted anytime.
"Leaving now is the safest option, before conditions become too dangerous," read the VicEmergency warning message.