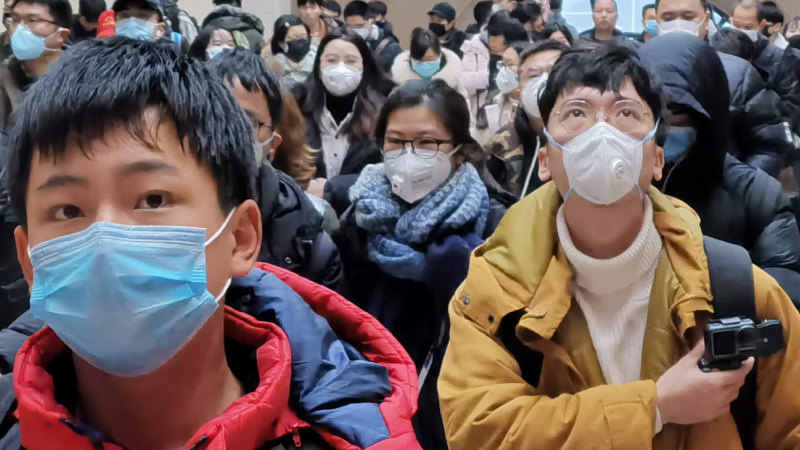 Quarantine has been used throughout history, including in Europe during the black plague, because it works. As an island nation we have a unique advantage in that we do not have entry routes by road or rail. In fact, we have a long history of using quarantine to protect public health. We even have a longstanding Federal Quarantine Act and state public health acts for situations where the greater protection of society must be the highest priority.
Loading
We had a Quarantine Station in Sydney until 1984, which quarantined ships during the 1918 flu pandemic. Passengers on ships, no matter who they were, had to stay in cabins in the Quarantine Station until the incubation period was over. This had the effect of delaying the entry of the pandemic into Australia by almost a year.
The public health goal is to prevent an epidemic in Australia, or if we cannot prevent it, to delay it. Delay will buy us time, which means we may have a vaccine by the time it arrives.
An epidemic spreading here would cause stress on our health system. We would rapidly run out of isolation rooms and hospitals would face shortages of beds. Our health workers would be at risk of infection and even death, as was seen with SARS. Epidemic control is different to controlling chronic diseases, as they increase in size rapidly, over days or weeks. You don't have the luxury of time, and need to act very fast before it is too late.
The two quarantine options are having a dedicated quarantine facility, or home quarantine. Home quarantine is voluntary, harder to monitor and may not be as effective if people fail to comply. A dedicated quarantine facility is preferable. We have heard that there is no other facility onshore which is ready to be used immediately as a dedicated quarantine facility for evacuees from Wuhan. While not ideal, the Christmas Island facility can be used immediately, which prevents any delay.
Understandably, the thought of being quarantined in a detention centre is off-putting to Australian citizens. Their concerns include the lack of medical care on Christmas Island and, certainly, while Ausmat teams will be deployed to provide this care, it would be preferable that anyone who became ill was flown to Perth for care.
Loading
It is also important that the use of the facility be carefully planned to have spatially separate zones for asymptomatic people and people who develop symptoms until they can be flown out. Medecins Sans Frontieres has extensive experience in designing Ebola treatment centres with spatial infection control zones, and could be asked to advise on spatial management of a quarantine facility.
Otherwise, infection control advisors should provide guidance on optimising infection control in the facility. For the evacuees, the risk of infection is real, whether they go into home quarantine or a quarantine facility. I would expect our public health teams would monitor them and move them into isolation if and when symptoms occurred, and this may be quicker and done more safely in a dedicated facility than in multiple homes scattered around the country.
For Australian families stranded in Wuhan, I cannot imagine the fear and distress they are facing. However, the consequences of staying in Wuhan are far more serious than being placed in quarantine on Christmas Island for two weeks. Cases are rising steeply every day in Wuhan, and we already know that several of the first evacuees from Wuhan to Japan were infected. Time is short and epidemics do not wait for our deliberations. Quarantine is an accepted public health measure to reduce the risk of an epidemic in Australia, and this is an unprecedented situation of having to transport large numbers of stranded citizens from the epicentre of a new viral epidemic.
Professor Raina MacIntyre is the head of the Biosecurity Research Program at the Kirby Institute, UNSW Medicine.