The Australian Energy Market Operator confirmed emergency services had been activiated in both Victoria and NSW on Friday night because of damage to multiple transmission towers.
In a statement AEMO said loss of additional generation capacity or transmission outages could result in the need for rotational controlled load shedding in Victoria and NSW, however this was an "absolute last resort."
On Friday almost 80 per cent of NSW recorded temperatures of 40 degrees or more, while temperatures on Saturday promise to be just as uncomfortable. Anywhere west of the Great Dividing Range is likely to continue recording temperatures above 40 degrees.
"Tomorrow is the big heat day. Metropolitan Sydney will be 35 degrees, while western Sydney, Penrith and Richmond will likely hit 46," Bureau of Meteorology forecaster Abrar Shabren said.
"Towards the coast, winds will be coming from the north-east, which is why we are seeing moist, muggy and humid conditions, which are very uncomfortable and will keep temperatures high during the night."
Mr Shabren said coastal winds from the north would reach speeds of 45km/h on the water.
"That will bring moisture and humidity and, with those high temperatures, Sydney will feel even hotter than it actually is."
Severe fire danger ratings and total fire bans will be in place for the Illawarra and Shoalhaven, Far South Coast, Monaro Alpine, Southern Ranges, Southern Slopes and the ACT, where a state of emergency has been declared as a result of the out-of-control Orroral Valley fire.
The fire is now more than 19,000 hectares in size and crossed the NSW border on Friday afternoon.
In Sydney, RFS crews and Fire and Rescue NSW attended to a rubbish fire, which spread to nearby bushland in Castle Hill.
The fire on Broadsword Place was burning in close proximity to several residential streets, which were closed, as well as a public school, which was also closed at the time.
This weekend, Mr Shabren said NSW should prepare for the possiblity of "raised dust" carried by winds from the far west of the state, which could impact air quality and visibility, ahead of potential thunderstorms on Sunday.
"If rain falls, we could have situations of mud rain, or brown rain," he said, adding that thunderstorm activity could occur as a result of fires now burning.
"As we have seen in the past, there is a possiblity of thunderstorms being generated by fires. We have seen so much heating since Wednesday afternoon, we could see the fires generate their own thunderstorms and weather systems as well."
On the South Coast, temperatures are expected to reach high 30s on Saturday, while Canberra will continue recording temperatures above 40 degrees.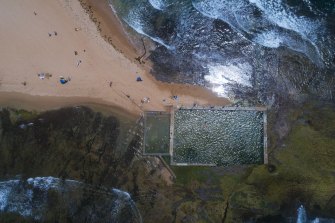 The north-east, Riverina, North Coast and Northern Tablelands will most likely hit "mid-to-high 30s", Mr Shabren added.
NSW Health Director of Environmental Health Richard Broome urged people to be mindful of heatwave conditions, which will last through to Sunday.
"Even though Australians are used to hot weather, we know that conditions like those forecast cause severe and even life-threatening illness," Dr Broome said.
"Staying indoors, drinking plenty of water and keeping exercise to a minimum can reduce the risk of heat-related illness."
People over the age of 75, people with chronic conditions and those who live alone are most vulnerable to the dangers of heatwaves.
On Friday afternoon, Sydney was still recording 29.6 degrees at Observatory Hill, after recording an earlier maximum of 30.2.
At that same time, it was 39.2 degrees in Richmond and still increasing.
Loading
Lucy Cormack is a crime reporter with The Sydney Morning Herald.
Most Viewed in Environment
Loading