The latest example: her semi-final upset on Thursday of Ashleigh Barty, Australia's world No.1. Kenin saved two set points in both sets and won, 7-6 (6), 7-5.
Loading
"She just doesn't back off," said Tracy Austin, a former world No. 1. "She has incredible focus, and she's got incredible hunger. It's very evident. Some players, deep down, you are not so sure that they love that five-all, deuce moment. I get the feeling Kenin just marches over and says, 'OK, bring it.'"
Like Austin, a teen prodigy who won the US Open in 1979 and 1981, Kenin is of average size but strong mind.
Win or lose on Saturday, Kenin, who is coached by her father, Alex, will move into the top 10 for the first time, and her rise into the elite reflects significant trends in women's tennis.
Despite predictions in the 2000s that the game was soon to be dominated by towering power players with big serves and superior reach, things have not worked out that way.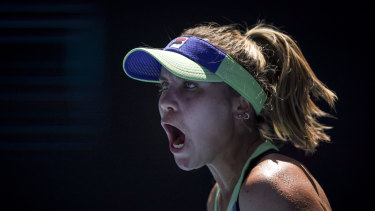 Examine the recent grand slam honor roll.
Barty, who won the French Open last year, is 166cm. Simona Halep, a former No. 1 who won Wimbledon last year, is 168cm. Bianca Andreescu, the Canadian teenager who won the US Open last year, is listed at 172cm.
So is Kenin, although she did not look much taller than Barty when they lined up for pre-match photographs at the net on Thursday.
"It's a great lesson for anybody in that it's not always about how big, strong and super fast you are, it's what's under the hood," said Rick Macci, one of Kenin's childhood coaches, who calls her "the mosquito".
"She's just there the whole time, bothering you," he continued. "She's had this innate mental strength since she was a little kid. It was already baked in there."
Macci, who is based in Boca Raton, Florida, worked with several future stars in their youth, including future No.1s Maria Sharapova, Venus Williams and Serena Williams.
One of the keys for shorter players is to contact the ball early to avoid having to do so up and out of their ideal hitting zone. It also protects them from getting pulled wide, where reach is an issue. Kenin may not be as fast as Halep or as flexible as Andreescu, but her early-contact skills and control are extraordinary.
"Her timing of the ball is better than anybody I ever taught," Macci said of Kenin. "You'll notice she's not out of balance that much, and she can take the ball right off the bounce like a wizard. Everyone can hit deep, but the angles she gets, even while taking the ball early, are so acute that she gets you off the court, and then she goes for the jugular. She has a drop shot from another planet. She's the closest thing I think this sport has seen to Martina Hingis. It doesn't surprise me whatsoever to see her in a grand slam final."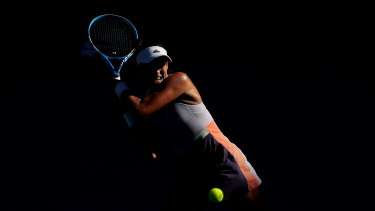 Kenin made her first big grand slam move at the French Open last year, when she upset Serena Williams in the third round, holding her ground despite meeting resistance from the crowd when she questioned line calls.
Kenin has anything but a poker face on court – gesticulating, shouting encouragement to herself and occasionally flinging her racket to the ground. But she also has a remarkable ability to refocus, and once a rally is lost, she will typically turn on her heel and briskly march to wherever she needs to be to play the next point.
"She self-coaches," Austin said. "She's got that fist pump and talking to herself, and she's walking fast and there's a lot of energy. She resets really well, and sometimes it's almost a Jimmy Connors effect, where she uses the negativity for fuel and to her advantage."