Her husband Danny Gosper wanted to call their son Smokey after convict ancestor Thomas Roker Gosper, whose middle name meant smoke in Dutch, and after their deceased dog Smokey.
While Ms Thornton was initially against the name, she said that she "felt like it was meant to be", given the bushfire circumstances.
Alongside the fires, Ms Thornton experienced a traumatic childbirth, with a failed spinal block which meant she felt the pain of the entire caesarean birth. She said that the culmination of her birth and the bushfires reminded her of "how out of control so many things are in our world".
When asked about her feelings upon bringing a child into this intensifying climate, Ms Thornton said she "felt a sense of relief that there's a new generation being born".
She said that the new generation didn't have "age-old fossil fuel mentalities", and that the new birth was "fresh hope".
"It's not even hope, knowing they're going to grow up and change the way we have a relationship with the earth is really a relief," Ms Thornton said. "The army of the new generation are coming".
While fearing the effects of smoke and ash on the developing lungs of "a delicate, vulnerable baby", Ms Thornton also reflected that the fires were like a cleansing Indigenous Australian smoking ceremony, and a reminder of mother nature's anger at the state of the world.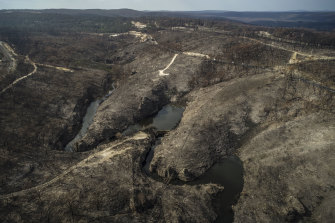 "Although I'm ashamed of the world my little baby has come into, in terms of fossil fuels, climate change and government inaction on creating a beautiful world…maybe it is a smoking ceremony, a catalyst for change," Ms Thornton said.
Both Ms Thornton and her husband have been firefighters with the RFS for six years, making it doubly painful for Ms Thornton to "watch from the sidelines" during her pregnancy.
"I desperately wanted to be out on the fire grounds," Ms Thornton said, "When a few hours passed and I didn't hear from [my husband], it was painful".
Loading
Growing up in the bush, and doing a lot of work with Indigenous culture, Ms Thornton wants to ensure that the earth is her child's "number one priority", and added that it was vital to remember that "we belong to the country, the country doesn't belong to us".
"I hope that Smokey, when he is an older man, is surrounded by beautiful bush…that he lives in a peaceful world where mother nature comes first," Ms Thornton said, "And that in turn, the country will look after him and keep him safe."
Catriona Stirrat is an intern journalist at The Sydney Morning Herald.
Most Viewed in Environment
Loading