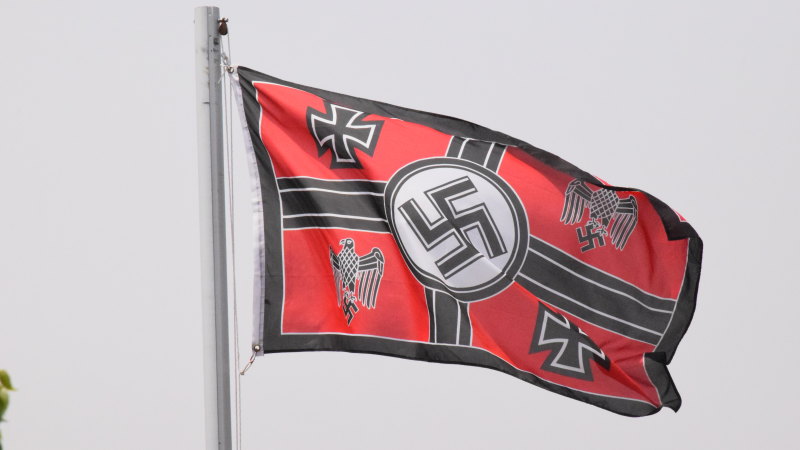 Loading
The amendment, if supported by the Andrews Labor government, would enable Victoria Police to remove and confiscate items that breach the ban, allowing police to tear down Nazi flags when they see them.
The proposed laws would apply only to those who intend to incite hate or physical violence and would also contain safeguards for legitimate use of the historic symbol, including for education, research and artistic purposes.
A parliamentary committee has been reviewing Victoria's anti-vilification laws since September amid a push to widen the Racial and Religious Tolerance Act to include hate speech targeting people for their gender, disability, sexual orientation or gender identity, as well as internet harassment.
But the Nazi insignia pushed itself onto the agenda last month when local and states authorities found themselves powerless under the law to act against a householder in the remote Mallee town of Beulah who flew a flag emblazoned with the Swastika above their home.
Loading
The incident made headlines around Australia and sparked calls, including from the Anti-Defamation Commission, a Jewish group that campaigns against anti-semitism, for a legally enforceable ban on the Nazi symbol.
Attorney-General Jill Hennessy indicated that she may be open to considering some form of action against the swastika but freedom of speech would have to be balanced against a crackdown on racial and religious vilification.
The chair of the parliamentary committee, Fiona Patten of the Reason Party, has opposed a ban on the swastika, saying a prohibition on symbols might be a step too far.
But the committee's deputy chair, Liberal MP for Brighton James Newbury, is convinced a ban is needed. He has lobbied his senior colleagues to adopt the policy and take it to Parliament after sitting resumes for the year this week.
Shadow Attorney-General Edward O'Donohue told The Age that he expected the Labor government to back the Liberals' push for law reform.
"Victoria is a proudly diverse and tolerant community and Victorian Liberal-Nationals will always act to protect that," Mr O'Donohue said.
Mr Southwick backed his colleague, saying the community had to be protected from hate.
"Every Victorian deserves to go about their daily life free from persecution and this clear ban will go a long way to keep our community free from hate," the opposition police spokesman said.
"By providing additional powers to Victoria Police to remove Nazi swastika and other symbols of hate we will ensure such damaging imagery can be promptly removed from the community."
Noel Towell is State Political Editor for The Age