While selective schools have high rates of socio-educational advantage – which means students' parents are educated, a key factor in schooling success – the figures show that does not necessarily equate to wealth.
Many students are from suburbs popular with new migrants, such as Campsie – ninth on the list of top suburbs by proportion – where the adult population, almost a quarter of which was born in China, is more highly educated than the NSW average but earns less.
Associate Professor Christina Ho from the University of Technology Sydney said many of the suburbs were home to skilled migrants. "Getting their kids into a selective school is one of their key strategies to secure their future in a new country," she said.
"It's very hard to immigrate to Australia. They've passed the point test, they are highly educated, they come from professional backgrounds. But they do face this bamboo ceiling.
"A lot of the time they can't progress their own career, so all their aspirations and hopes are for their own children. This is why Asian migrants are almost obsessed with education; they can see the battle that their children are going to face."
While the figures showed that parents in the city's richest areas were not choosing the selective system, Geoff Brailey, a social demographer from McCrindle Research, said the government-run schools that require an entry test were an attractive option for many parents.
"You get very different benefits to the networks, prestige and opportunities that might come from a private school, yet you are still positioning them for the future," he said.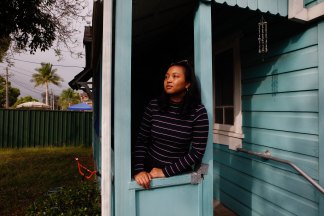 Laura Moe, 16, lives in Lidcombe and attends North Sydney Girls High School. Her family emigrated to seek better education and a future for their children when their home country, Burma, was run by a military government.
Her father was born into poverty and worked his way to university in Burma, but restrictions on girls meant her mother missed out on the tertiary schooling she wanted. They arrived in Australia with "essentially nothing" but their education, Laura said.
"My parents consider their children being well-educated and having lots of opportunities second only to family, wellbeing and health." Her school, one of the highest-achieving in the state, has pushed her to discover talents "I didn't know I had".
A spokesman for the NSW Department of Education said the department was working on a range of initiatives that would enhance access to the selective high school system.
"The initiatives focus on increasing access and equity to the system, regardless of a student's location, background or gender," he said in a statement.
Jordan Baker is Education Editor of The Sydney Morning Herald
Nigel Gladstone is The Sydney Morning Herald's data journalist.