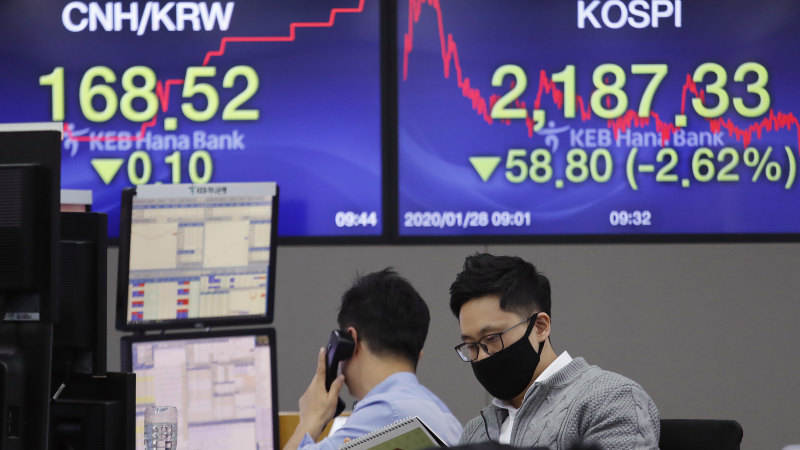 Japanese and South Korean stocks have fallen sharply upon the resumption of trade today.
Japan's Topix is down 1.5 per cent to 1658.81, leaving it at the lowest level since November 1.
South Korea's Kospi has also skidded to a seven-week low, falling 1.4 per cent to 2089.45.
Even New Zealand stocks are under pressure with the NZX 50 down 1.6 per cent to 11529.9 midway through the session. Chinese stock futures will resume trade at 12.15pm AEDT.  Physical markets will begin trade 15 minutes later.
Ahead of the resumption of trade in China, US S&P 500 futures are up 0.2 per cent. They slumped 1.8 per cent on Friday.
Activity levels across Australia's manufacturing sector were deteriorating sharply even before China's coronavirus outbreak came to prominence. The Ai Group's Performance of Manufacturing Index (PMI) slumped 2.9 points to 45.4 in January, leaving it at the lowest level since June 2015.
A reading below 50 signals activity levels weakened from a month earlier. The distance from 50 signals how quickly the deterioration occurred. All activity subindices declined while cost pressures intensified.
The weakening was also widespread with food and beverage manufacturers the only group to report an improvement in activity levels.
"Activity, new orders, deliveries, sales and exports all slowed in the last months of 2019 and this has continued into January, affecting all segments of manufacturing," Ai Group CEO Innes Willox wrote.
"The combined impact of global trade disruptions, slow local consumption, the residential construction downturn, drought and the ongoing bushfire crisis are taking their toll on local production this summer."
Mr Willox said activity levels may weaken further as a result of disruptions caused by China's coronavirus outbreak.
"We are facing yet another new threat of global disruption and disaster, in the form of the coronavirus emerging from China," he said.
"China and its Asian neighbours are key export markets for Australian food, beverages and other manufactured goods. The measures announced in response to the virus to date are timely and necessary, but they will likely dent demand for Australian manufactured exports in the short term."
The Ai Group will release sperate activity indicators on Australia's services and construction sectors later this week. Similar results to that seen in today's report will only intensify concerns about the prospect of a sharp slowdown – or outright decline – in economic growth for the March quarter.
Shares in Qantas are down 2.2 per cent, or 14.5¢, to $6.26 today, which seems mild given Australia has closed its borders to travellers from mainland China and discouraged Australians from travelling to China. The current share price is a 12.4 per cent decline since January 1, when Qantas shares were up at $7.15. 
Chief executive Alan Joyce was on Radio National this morning discussing the precautions taken for the charter flight from Wuhan. He said after bushfires Qantas had started to see recover in forward-booking from the United States and strong domestic demand. He expects the Corona Virus to have a devastating effect on some airlines, but believes Qantas is strong enough to withstand the shock. 
"It is hard to put an estimate on [the Cornoa Virus] at the moment," he said. 
"But what I can say is that the Chinese operations that is directly affected represents about 2 per cent of our international business and our international business is smaller in profitability than our domestic or loyalty or Jetstar business."
"However, the knock-on effect where people – to the tourism industry [and] the economy, is something that we will have to monitor and that could have an impact on us," he said, adding the 2003 SARS epidemic cost the airline $55 million. 
"When I look at this, I would rather be Qantas than any other airline because [of] our balance sheet, our cash generation, our profitability from our domestic and loyalty business, we are the strongest we have ever been to be able to cope with a situation like this."
He said struggling smaller airlines may not survive such a massive disruption to their business. 
Growing risk aversion sparked by China's coronavirus outbreak, and measures being introduced to stop its spread around the world, has seen gold prices jump to fresh four-week highs this morning.
The spot bullion price has risen to $US1,590.36 per ounce, according to Refinitiv, leaving it on track to close at fresh seven-year highs.
It's now gained over 3.5 per cent in the space of 14 trading sessions, leaving it within touching distance of the recent intraday high of $US1,610.90 per ounce hit on January 8, the day of the Iranian missile attack on US bases in Iraq.
When priced in Australian dollars, the bullion price has exceeded the record highs hit that day in early trade on Monday. It hit a session high of $A2,380.29 per ounce, surpassing the high of $A2,377.83 set on Friday. It currently trades at $A2,375.95.
Crude oil futures have tumbled to the lowest level since early 2019 in early Asian trade.
Front-month Brent crude skidded to as low as $US55.77 per barrel, according to Refinitiv, briefly hitting lows not seen since January 3, 2019. The contract has now fallen 22.3 per cent in less than a month, leaving it in a technical bear market defined as a peak to trough drop of more than 20 per cent.
The latest plunge follows reports Chinese oil demand has fallen 20 per cent as a result of the lockdown caused by the coronavirus outbreak.
After an initial drop from 7017 down to 6897 points, the S&P/ASX is currently trading 94 points lower at 6928, a decline of 1.3 per cent. All eyes will be on the Chinese exchanges when trading opens around 11.45am AEST. China's market was closed for the lunar new year and the closure was extended as authorities encourage workers to stay home to try and contain the spread of the Coronavirus. 
There is 180 companies trading lower or flat, and just 20 in green. The risers include gold miners like Northern Star, up 2.9 per cent, and Newcrest, up 1.4 per cent, as well as gas pipeline owner APA Group, up 0.7 per cent, and Domain Holdings is up 0.3 per cent. 
The biggest declines are in the energy sector with oil companies experiencing a sharp fall, and metal recycler Sims Ltd is down 4.5 per cent. 
Minining services companies in NRW Holdings and Seven Group are down by about 4 per cent. The information technology sector is under pressure with nearmap down 3.4 per cent, Link Administration down 3 per cent, and WiseTech down 2.5 per cent. 
Superannuation and investments play OneVue says it is "taking all necessary steps to preserve our legal rights" after a non-operational entity of fintech Sargon Capital had receivers appointed last week.
OneVue entered a trading halt last Thursday on the news that McGrathNicol had been appointed to a holding company for Sargon Capital, which offers "cloud trustee infrastructure".
Sargon had purchased OneVue's trustee business Diversa last year and an remaining payment for the business of $31 million was due to be paid by May.
This morning OneVue told the market that its future growth and plans were not affected by the situation but it was working to ensure "we place ourselves in the strongest position possible to recover the full value of the deferred consideration".
Flexigroup has signed Flight Centre to an exclusive four year deal for its long term interest free credit card service called Sky – in opposition to the buy-now-pay-later model of rivals like Afterpay.
Flexigroup said it is expected to result in "a double-digit increase in total income for the company over the life of the partnership."
The consumer credit provider also released a first half update which reported a 12 per cent increase in customer numbers and a15 per cent lift in retailers signed up to its services.
Flexigroup said its buy now pay later volumes increased 23 per cent and expects to report an overall cash net profit of $34.5 million.
IOOF has completed its acquisition of ANZ's pension and investment business and money will start to flow into the financial services giant from today.
IOOF got a 15.2 per cent discount on the original sale price purchasing ANZ's investment arm for $825 million.
IOOF chief executive Renato Mota said in a statement the acquisition would play a key role in the company's development of its wealth management business.
"The wealth management industry remains of vital importance to Australian communities and IOOF's strategy is focused on serving this need and the growth of prosperity for all Australians," Mr Mota said.
The newly acquired business has $26.8 billion in funds under management and is positioned to bring in $63 million per year to IOOF.
IOOF shares are down 5.7 per cent to $7.46 today, the lowest price in two months, while the rest of the market is down 1.5 per cent. 
The S&P/ASX 200 has dropped sharply on opening as companies with wide exposures to Chinese customers, or travel to and from China, plunge. 
IDP Education is down nearly 10 per cent
Fortescue Metals is down 5 per cent
a2 Milk is down 3.9 per cent
Crown Resorts is down 3.5 per cent
Corporate Travel is down 3.8 per cent
Qantas is down 2.5 per cent
And oil companies are also falling as the price of oil hits a six-month low, falling below $US52 per barrell for generic crude. Oil Search is down 10.4 per cent, Beach Energy is down 4.9 per cent, and the energy sector overall is down 3.7 per cent.