Loading
"But I think actually more significantly [the impact] will be in and around Melbourne, which is where the majority of Chinese tourists come, stay and spend their money.
"It will be undoubtedly significant."
The Australian economy has been savaged in recent months with the bushfires prompting international tourists to stay away.
Mr Pakula said the effects of the fires, coupled with the travel ban imposed by the Commonwealth on foreign travellers who had left or passed through mainland China to contain the global spread of coronavirus, had caused damage to Victoria's tourism brand.
Visit Victoria's campaign will focus on emphasising that many parts of the state "are absolutely open for business", he said.
"No doubt, for a couple of week the fires were probably a deterrent but I think those who have been watching throughout the Australia Open saw that Australia is open," Mr Pakula said.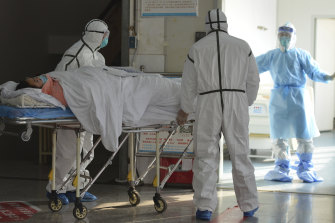 "We basically had two weeks of incredible images being broadcast around the world. We've actually seen the largest attendance in Australian history, so whilst those fires would not have been helpful for a period of time … those who have been paying attention would have seen that Melbourne and many, many parts of Victoria are absolutely open for business."
Mr Pakula said he could not provide figures on the hit that the economy had taken, and added businesses and governments were working through those numbers.
He said the impact of the coronavirus outbreak on trade may "not be known for some time".
"There's been significant restrictions on the movement of people and business within China and we're still ascertaining the impacts, the potential impacts, on trade but I don't think that'll be clear for some time," Mr Pakula said.
"But you would expect to see that there'd be not just inbound effects, but outbound effects."
There are four confirmed cases of coronavirus in Victoria, bringing the total number in Australia to 12. Globally, there are almost 20,000 confirmed cases.
Health Minister Jenny Mikkaos said 178 Victorians who had tested for coronavirus had been cleared, while a further 41 people are waiting for their results.
But she said she was "disturbed" that members of the Chinese diaspora had been discriminated against since the deadly outbreak.
"There is no one in Victoria who's taking this issue more seriously than Victorian Chinese-Australians, and I want to thank them for the very high level of co-operation that they have shown to date in making sure that they can keep their family members safe, but also the broader community," Ms Mikakos said.
Sumeyya is state political reporter for The Age.