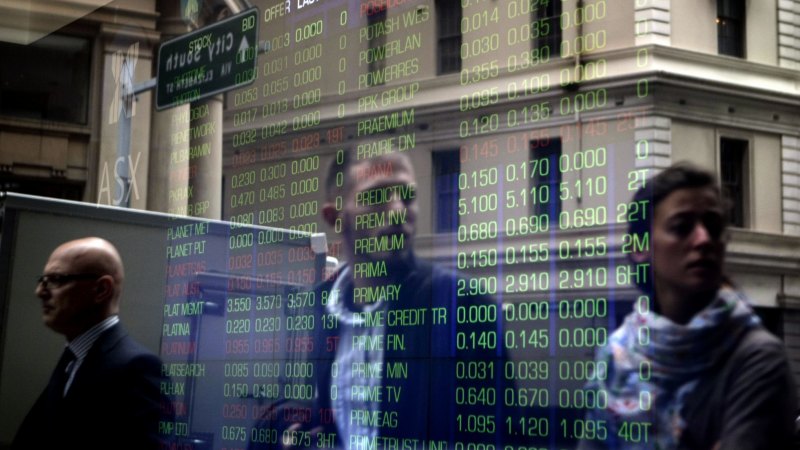 Bapcor shares are surging today after it Morgans increased its rating to "add" with a target price of $6.90.  Shares are up 5.3 per cent today to $6.79. 
Morgans actually has the lowest target price of seven analysts that cover the stock, and all of them have a "buy" rating (or similar) on the auto-parts supplier. Target prices range from $6.90 up to $8.10. Consensus expectations are for the company to report first half revenue of $703 million on February 12, and post-tax profits of $44.7 million. 
Full year revenues are forecast to be $1.44 billion, up from $1.3 billion in 2018-19, with post-tax profits of $102.4 million up from $94.3 million. 
Lithium mining companies are higher today as investors rally around electric vehicle maker Tesla and as the UK government announces it will ban the sale of new petrol and diesel cars in 15 years. 
AAP reports Tesla said it expects to exceed production of 500,000 vehicles this year at its factories in Fremont, California, and Shanghai. It appears to have worked the kinks out of making the Model 3 small car, the company's lowest-priced vehicle. And it announced it will start producing the Model Y, a small SUV with broad global appeal, sooner than expected.
On the ASX today Neometals is up 23 per cent to 23¢, Pilbara Minerals is up 11.3 per cent to 34¢, Galaxy Resources is up 10.5 per cent to $1.15, and Orocobre is up 10.5 per cent to $3.38. 
Lithium is a key ingredient in the batteries used by electric vehicles. Interest in lithium-producing companies peaked in early 2018, but quickly fell as it became clear there was a risk of over-production as the electronic vehicle industry was moving much slower expected. 
Outside of detached housing, Australia's construction sector remains in the doldrums.
The Ai Group's Performance of Construction Index (PCI) rose 2.4 points to 41.3 in January. A figure below 50 indicates activity levels weakened from a month earlier. The distance from 50 signals how acute the drop was.
All the PCIs activity readings continued to weaken, including a faster rate of job losses. New orders and capacity utilisation also declined, pointing to continued weakness in new work, employee demand and new capital investment.
Worryingly, margin pressures intensified with input costs rising at the fastest pace in a year while prices to end customers falling at a faster pace than a month earlier.
The weak result would have been far worse without a modest improvement in housing construction – the first seen since mid-2018 and – with activity levels at apartment, commercial and engineering construction firms all deteriorating sharply.
"Survey respondents continue to indicate significant margin pressures from a highly competitive tendering environment," the Ai Group noted. "Some businesses also pointed to soft economic growth and uncertainty about the outlook as having a negative effect on their order books as a result of increased risk aversion and lower spending among clients."
Despite disruptions caused by devastating bushfires across many parts of the country over the month, that was not singled out as a factor behind the continued weakness in activity levels.
The Ai Group will release its Performance of Services Index (PSI) on Friday, providing a snapshot of how the largest employing sector in the country fared at the start of 2020. Along with the decline in the construction sector, manufacturing activity also weakened at the start of the year.
ASX-listed Singapore-based OM Holdings this morning warned shareholders the transportation restrictions imposed by Chinese authorities to stop the spread of coronavirus is affecting its business. 
OM's raw material supply chain has been disrupted by the closure of domestic trucking services, and has led to the closure of two of its ten ferrosilicon furnaces at its smeltering plant in Sarawak, Malaysia, on the island of Borneo. 
"The remaining furnaces are continuing to operate relying upon existing raw material inventory at the plant," OM Holdings told shareholders. 
"The company will continue to assess the situation closely and will provide further updates on any raw material supply chain disruption and the impact to the plant in due course." 
Ferrosilicon uses quartz and produces a crude steel that is used in transformers. 
Citi Research is tipping Chinese economic growth will slow sharply this year due to the coronavirus outbreak, seeing the bank take an axe to some of its commodity price forecasts.
The most impacted commodities are WTI oil (down 17 per cent to $US50 per barrel), nickel (down 17 per cent to $US13,825 per tonne) and lithium (down 15 per cent to $US5,750 per tonne.
Citi also reduced its near-term iron ore forecasts, although its average forecast price for the year was left unchanged at $US75 per tonne.
While it sees Chinese economic growth slowing to 5.5 per cent this year, down sharply from 6.1 per cent in 2019, it tips a strong recovery in Chinese demand starting in the September quarter.
"Price forecasts are skewed strongly to the upside over the next 12 months with 80 per cent of our key mining commodities expected to be higher than current levels with most upside in lithium, alumina, nickel and aluminum," it said.
ANZ Bank says headwinds from Australia's bushfire crisis and the coronavirus outbreak in China will likely see the local economy go backwards in early 2020.
"We have revised our preliminary estimate of the impact of the coronavirus and now expect it to take around 0.5 percentage points off Australia's GDP in the March quarter," ANZ senior economist Felicity Emmett wrote.
"Along with a small hit from the bushfire impact, we estimate that GDP will now fall 0.1 per cent for the quarter."
While the RBA looked through the impact of the fires and virus outbreak at its February policy meeting, choosing instead to wait for further clarity, Ms Emmett believes the weak start to the year adds to the case for further policy stimulus.
"For the RBA, a case can be made for looking through the immediate impact on demand, given the likely rebound later in the year," she said.
"Our view, however, is that while the economic impact of the coronavirus does not drive the case for further easing, it adds to the weak tone in the economy and suggests further rate cuts are likely this year."
We reported yesterday that Dublin-based and recently listed fintech company FINEOS was in a trading halt after the ASX asked for more information about an announcement on Monday. 
This morning FINEOS confirmed the mystery 'Tier-1 US Insurer' mentioned in the announcement is The Prudential Insurance Company, known as Prudential. The company holds $US4 trillion in life insurance and is a Fortune 500 company.  
FINEOS has now resumed trading and is up 2.2 per cent to $3.27.
The S&P/ASX 200 has enjoyed a strong start to the day with a rise of 58.9 points so far to 7007.6, a gain of 0.85 per cent. 
Afterpay has dropped 1.7 per cent to $39.20, under-performing the rest of the information technology sector, which is up 1.3 per cent. 
The healthcare sector is also out-performing with a rise of 1.4 per cent, thanks to an early surge in CSL shares up to $321.22, although this has now eased to $317.56. 
Orocobre is up 10.8 per cent to $3.39, and lithium miner Pilbara Minerals is up 10.5 per cent to 34¢. 
Bapcor is up 6.4 per cent to $6.88, and fruit and vegetable grower Costa Group is up 5.9 per cent to $3.03, the highest price since late October when it issued its latest profit warning. 
Iron ore prices rebounded sharply on Tuesday, recovering much of the losses seen to start the week.
The spot price for benchmark 62 per cent iron ore fines jumped 4.2 per cent to $US83.76 per tonne. Gains across other grades ranged between 2.9 to 4.5 per cent, the largest seen in higher yielding, more expensive ores.
While they still closed lower, Chinese iron ore futures recovered most of their earlier losses during Tuesday's trading session. The May 2020 contract on the Dalian commodities exchange rebounded from ¥569.5 to finish at ¥587 per tonne.
Similar movements were also seen in Singapore futures which climbed from $US76.60 per tonne to close at $US80.79 per tonne in overnight trade.
The rebound in futures coincided with similar moves in Chinese equities during the session, fuelled by another large liquidity injection from the People's Bank of China through the repo market.
In early trading Fortescue is up 1.5 per cent to $11.34, BHP is up 1.6 per cent to $38.91, and Rio Tinto is under-performing the rest of the market with a rise of 0.7 per cent to $98.02. 
A Panglossian view from the RBA in its February monetary policy statement, coupled with strong gains in global equities thanks to ongoing measures rolled out by Chinese policymakers to support its economy and financial markets, the Aussie dollar surged overnight, lifting as much as 0.8 per cent to 67.40 US cents.
"Markets have now embarked on a new rebound, spurred by China's efforts to support its economy alongside an apparent decline in concerns over the Coronavirus impact on the global economy," said Rodrigo Catril, senior FX strategist at the National Australia Bank.
"The AUD has been one of the outperformers, supported by an unchanged RBA cash rate decision and optimistic outlook by the Bank."
Firmer commodity prices (outside of crude oil and gold) also helped the Aussie's cause.
A sharp lift in Australian bond yields – driven by the same factors that fuelled the currency's rebound – also contributed to the "battler" topping the G10 FX scoreboard for the session.
Benchmark 10-year yields have risen back above 1 per cent, sitting at 1.004 per cent. They had been as low as 0.884 per cent prior to the RBA's interest rate decision. The unwind in the local bond market mirrored similar, albeit smaller moves, in US and European markets on Tuesday.