Ms Gobbo has stepped down briefly while the royal commission takes a short break. Back in 20 minutes.
Ms Gobbo said she was worried that police thought she was involved in the murders.
"I was also concerned that the way in which these people were talking in intercepted phones. The assumption would be made that I was a party to their conspiracy or their murders," she said.
Just because she was talking to them, she said, "did not mean they would tell me about their plans to murder someone".
Ms Gobbo briefly mentions going to hospital. We assume this is when she had a stroke in 2004.
"That took me out of the equation for a couple of people," she said.
Mr Winneke said Ms Gobbo should never have been involved in representing people in two major gangland murders, the Auskick double murder and then a later one in October 2003.
Mr Winneke said Ms Gobbo had no business representing them because she was a potential witness in both cases.
"You, yourself must have been aware you were far too close to the facts … it was simply untenable for you," Mr Winneke said.
Ms Gobbo is now being asked about the statement from a gangland informer, who we can't name, that said he wanted her to pass a message to Mokbel and Williams to make the payment for a murder to his mother.
Ms Gobbo said it was a lie. She said the money was money he wanted to hide from police so they didn't take it as proceeds of crime.
She said the statement was leaked to the Herald Sun, who wrote a story that she was an accessory to murder after the fact, and she said she sued them for defamation.
At the airport, she received two phone calls from the man mentioned in our prior post. Purana detectives became very interested in those phone calls.
Because of the calls, Ms Gobbo also became a person of interest to police.
Ms Gobbo said she didn't realise the significance of the phone calls at the time.
Carl Williams was convicted of organising the Auskick hit.
Ms Gobbo rejects Mr Winneke's suggestion that Mokbel spent the night at her place.
"For the record, I never spent the night at Tony's apartment ever or he at mine, ever," she said.
When she was at the aiport, Ms Gobbo received a phone call from a man, who can't be named.
"He rings me to tell me have I heard a news that there's been a murder and that Jason Moran has been killed," she said.
Mr Winneke is now talking about a double murder that happened in June 2003.
It is not being spoken about in the commission, but we presume it's the murders of Jason Moran and Pasquale Barbaro at an Auskick game.
On the day of the murders, Tony Mokbel dropped Ms Gobbo at the airport where she was meeting her mother to go on a holiday overseas.
"I live not far from him and I can recall being stuck at the airport for hours," Ms Gobbo said.
She said she was living in an apartment in Port Melbourne that was next to Mokbel's. The basement carparks at their two buildings were linked.
"He could always tell when my car was home or not home," she said.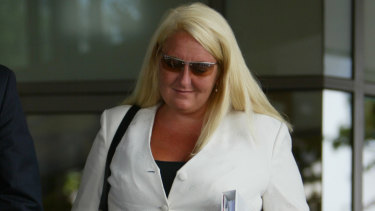 Ms Gobbo said it was wholly inappropriate.
"Please don't think this is some sort of excuse … there was a lot of encouragement and requests for them [the handlers] to have them. But ultimately, I shouldn't of."
Ms Gobbo says part of the reason she became a registered informer in 2005 was because of what happened in 2003 and 2004. She said she was "so far off the right track and out of my depth and out of control".
Ms Gobbo socialised with Mr Dale, particularly after he was being investigated over the burglary and suspended from the force.
She said she slept with him, but she was "blind drunk to the point of literally blacking out … the second time in my entire life".
After Mr Dale was arrested and charged with the burglary, Ms Gobbo visited him in custody.
Mr Dale handed her some documents, which she passed on to her handlers. She agreed it was wrong she gave them to police when she was there purporting to be his lawyer.
"On any view, you're prepared to concede your continued involvement with all of these characters in this transaction was, for a barrister, absolutely wrong," Mr Winneke said.
Ms Gobbo agrees and says she was also being pushed in the background by Mokbel, "who wanted to find out as much as he could about what they did and didn't know".
"He wanted to know how much the police knew. Dale wanted to know if Tony wanted to kill him because he burgled a place that belonged to Tony. I felt pressure from all around. You're right. I should have walked away from all of them," Ms Gobbo said.
We should note here that Mr Dale, who was charged over the burglary, was never convicted and denies involvement. Miechel was convicted and jailed.