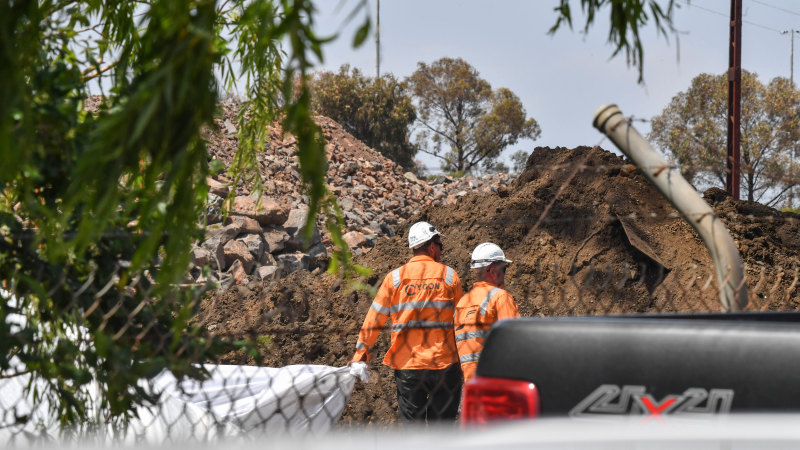 Leaked documents from the $11 billion Metro Tunnel project reveal the Environment Protection Authority classified the rail project's soil as having low traces of PFAS – potentially dangerous contaminants that shut down a CFA training college in Fiskville – in early 2018, more than a year before digging began.
Digging on the West Gate Tunnel was supposed to begin around August last year.
The classification delay is due to changes in state and federal rules on how PFAS should be managed, sources close to the negotiation said.
They say the West Gate Tunnel's soil exceeds a new EPA threshold for PFAS soil that can be reused, which is adding to costs and project delays.
Loading
An EPA classification rates the soil's level of contamination. It is needed to plan how the soil should be processed and where it should be buried.
The Age can also reveal that a Bacchus Marsh landfill, Maddingley Brown Coal, is the preferred dump site for the project's 2.3 million tonnes of waste.
It is understood the site could start taking the project's soil in the next few months, depending on planning approvals.
Transurban and the builders are pushing hard to sign a contract with a dumping site to start tunnelling, but have been blindsided by the lengthy technical requirements of putting large amounts of contaminated material in landfill.
Loading
Maddingley would likely build a new containment cell lined with clay to bury the PFAS soil. It is unclear whether the state government, the project's builders or Transurban would foot the bill for this. The containment cell option enables the builders to bypass hefty landfill levies, costing between $70 and $250 per tonne for contaminated waste.
The draft internal documents obtained by The Age show the amount of PFAS in soil beneath the Metro Tunnel's Arden station in North Melbourne is fairly low and could be less than what has been found on the West Gate Tunnel.
At two micrograms of PFAS per kilogram of soil, the Metro Tunnel's PFAS dirt does not exceed the EPA threshold. The draft EPA classification was valid for a year from May 2018.
A government spokeswoman said it was "not uncommon" for contaminants to be found in soil while building major infrastructure.
Loading
"All of Victoria's 'Big Build' projects follow strict protocols to identify and manage contaminated materials to look after the safety of workers, the community and the environment. We do this in conjunction with regulatory bodies, including EPA Victoria."
A Maddingley spokesman said the landfill was working to "develop a proposal to receive, manage and dispose of the West Gate Tunnel project spoil in line with best practice".
The EPA, Transurban and the project's builders did not respond to questions.
Timna Jacks is Transport Reporter at The Age