Most of the live streams are available via the various catch up apps, but the Freeview FV app is the easiest way to gather them all in one place. Click on a live channel and it will either stream within the Freeview app or launch the network's own app.
You're not restricted to watching on handheld devices, with most apps now supporting streaming via AirPlay and Chromecast; so you can fling the picture to an Apple TV set-top box, Chromecast dongle or smart screen. It's a handy way to get live broadcasts onto a big screen which isn't within reach of an aerial socket.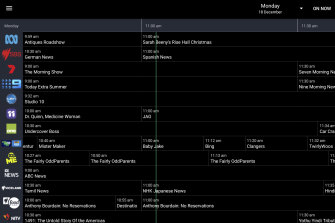 These online simulcasts have made it much easier to watch live television around the house, but they still have their limitations.
For starters, they're chewing through your home broadband allowance yet generally failing to match the picture quality of live broadcasts. They're also on a delay of at least 30 seconds, meaning you can't join in online conversations for fear that you'll hear of a wicket before the ball leaves the bowler's hand.
Loading
Most frustratingly for sports fans, the complexity of broadcast rights deals means some live sports are subjected to a streaming blackout because you're expected to pay up and watch them elsewhere online.
Thankfully there are other options, even if they are frowned upon by the broadcasters and major sporting codes: you can unleash the live broadcast coming from your television aerial and stream it around your house, letting you watch a broadcast-quality picture in real time.
The Fetch TV Mighty personal video recorder lets you stream live channels to a Fetch Mini set-top box in another room, but unfortunately it can't stream live free-to-air television to other devices.
Another option is a "network TV tuner" like the HDHomeRun Connect, which plugs into your aerial socket and appears on your home network as a DLNA media server. This lets your computers, smartphones and tablets tap directly into live channels, along with Smart TVs, Blu-ray players, games consoles and other DLNA-compatible set-top boxes.
Alternatively, you can use Plex Media Server to stream live channels to all your devices. You can do this by plugging a USB TV tuner into a computer or Network Attached Storage drive running Plex, or else link Plex to a HDHomeRun Connect. The beauty of this is that you can even stream television when you're away from home, letting you watch live sports broadcasts on the road.
There aren't many good reasons to flick on live television these days but, if you want to keep an eye on the action, there's no reason to stay chained to the couch.
Adam Turner is an award-winning Australian technology journalist and co-host of weekly podcast Vertical Hold: Behind The Tech News.
Most Viewed in Technology
Loading