The rainfall total for Sydney's Observatory Hill has passed 110 millimetres since the downpour started yesterday afternoon.
The Bureau of Meteorology is reporting over 36 millimetres has fallen since 9am this morning. Add that to the 79 millimetres which fell before 9am and we've more than scored a precipitation century before lunch.
Roads in Byron Bay are under water after the town's heaviest downpour in 46 years.
Residents found themselves wading through floodwaters on Friday morning after the town recorded close to 300 millimetres of rain in 24 hours.
The below video shows flooded roads at Suffolk Park, ten minutes south of Byron.
A spokesperson for the SES said they have received 447 calls statewide since midnight.
"Our advice is that people should be monitoring their local situation and to never drive, ride or walk through floodwaters," he said.
The Herald has been keeping an eye on possible contamination of Warragamba Dam in the event of heavy rainfall. As reported in December, experts have long worried about the risk of bushfire impacts on major water storages for Sydney, Melbourne and other cities and towns.
Incinerated catchment forests leave a lot of ash on the ground, as well as removing ground cover that holds back soil which could now be washed into the dams. Mudslides and all the debris of burnt sticks and leaves increase the turbidity of water.
In short, it takes a greater effort by water treatment plants to process it to the usual standards.
For deep dams like Sydney's Warragamba, authorities can pump water 30 or more metres below the surface – even when the dam is only about 42 per cent full (as it was of this morning). Other centres won't have that luxury.
Warragamba's falls for the past 24 hours have been about 54mm, according to the Bureau of Meteorology.
A potentially bigger issue will be whether the influx of nutrients, phosphorous, nitrates and other minerals trigger cyanobacterial or algal blooms. Such an event could take weeks or months or longer, and increase the challenges for water treatment plants especially if the blooms turn out to be toxic.
Sydney rainfall from Friday to Tuesday morning could total up to 400 millimetres, with rainfall over a four-day period not seen since April 2015.
Weatherzone meteorologist Craig McIntosh said Sunday is looking to be the wettest day of the weekend, with more rain hitting the city's coast than the western suburbs and Blue Mountains, although rainfall over Warragamba Dam could be in excess of 50 millimetres.
"Some areas of the west could get similar falls to the east but it doesn't look as widespread," he said. 
As Sydneysiders faced a deluge and delays on their way to work, some were happy to grin and bear it as much-needed rain came to the state. 
"News like this makes wet socks worth it," wrote Twitter user Joshua Small.
There are still delays on the North Shore, Northern and Western lines after a tree branch fell on the track at Artarmon earlier this morning. Services on the Inner West and Leppington lines are also experiencing small delays, as commuters take additional time to board in the wet.
Meanwhile, trains have started running again on the South Coast Line, after heavy rainfall activated safety monitors earlier in the morning.
Light rail services are running as usual, although there were reports of particularly crowded services during the morning peak.
Sydney's Observatory Hill has recorded 79 millimetres of rain in the 24-hour period ending at 9am this morning.
According to Weatherzone forecaster Ben Domensino, it is the highest daily total for the centre of the city in 14 months (since November 28 2018, when 105.6 millimetres fell).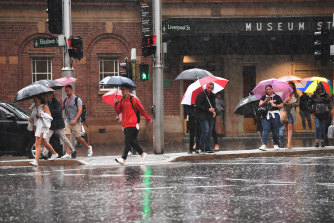 Motorists travelling south from the northern beaches should expect delays with flooding in the southbound lanes of Pittwater Road at Dee Why.
The flooding begins at Lismore Avenue and traffic is heavy.
South Coast Line trains are suspended in both directions due to heavy rainfall activating safety monitors. Replacement bus services are in operation between Thirroul and Waterfall. 
Before 8am, Sydney's Observatory Hill had collected 61 millimetres of rain since 9am on Thursday. At rate of current falls, the total should tick past the 65.6 millimetre tally the city recorded on September 18, the most recent wet day of these proportions.
The only other comparable day in the past year was the 75.2 millimetres reported in the 24 hours to 9am on March 18, 2019.
So, the city is already having one of its wettest days for a while and – given recent months have been so dry (just 1.6 millimetres was recorded at the site in December, the lowest rainfall for the month on record) – it will almost feel wetter.