Maya Rudolph and Kristen Wiig are upset. They turn their backs, make as if they're going to walk offstage, then immediately turn back.
"Guys, we're not mad," says Wiig.
"That's acting," says Rudolph.
"There are a lot of directors in this room."
They choke up as they announce the award they're presenting is for production design. "That's something else we're passionate about," says Wiig. It's not their best bit, but kinda fun all the same.
Production Design
Bob Shaw and Regina Graves, The Irishman
Ra Vincent and Nora Sopkova, Jojo Rabbit
Dennis Gassner and Lee Sandales, 1917
Barbara Ling and Nancy Haigh, Once Upon a Time … in Hollywood
Lee Ha Jun and Cho Won Woo, Parasite
Winner: Barbara Ling and Nancy Haigh, Once Upon a Time … in Hollywood
Speaking backstage, best supporting actor winner Brad Pitt dispelled rumours he had hired a writer for his awards season speeches, but acknowledged he had put a lot of effort into writing them.
"I have always been really tentative about speeches, they make me really nervous," Pitt said. "I know this sounds antithetical given the profession I have chosen but [being on stage] is not my thing."
Asked by an American reporter whether he was "having the time of your life?" Pitt seemed startled at first but then responded quite honestly. "Uh … no, I hope not," he said. "I hope I got other shit going on. But it has been a special run. It's a community I love and friends I have made over 30 years. And I feel a responsibility to that more than anything, more than a victory lap." Asked by Australian reporter Angela Bishop if he would be changing the text on his Tinder profile in the wake of the win, he replied coyly: "You'll just have to look it up."
Way back in 2005, New Zealand's Taika Waititi had an Oscar nomination for his second short film, Two Cars One Night. Waititi originally wrote Jojo Rabbit as a more serious film, then added the character of Adolf Hitler as Jojo's imaginary friend. The film's backer, Fox Searchlight, only wanted to make the movie if Waititi agreed to play Hitler because he understood how to play the character comically.
It's an odd thing that the films vying for best adapted screenplay are some of the most original works of the year. And none more so than winner Jojo Rabbit.
"Thank you. Amazing," says Taika Waititi as he takes the stage.
He thanks his mother for giving him the book he adapted, and to the book's author, Christine Leunens. He dedicates the win "to all the indigenous kids around the world who want to make art".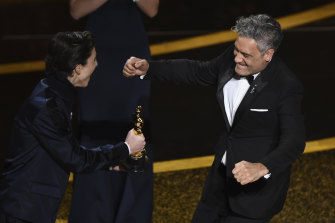 Short Film (Live Action)
Brotherhood
Nefta Football Club
The Neighbors' Window
Saria
A Sister
Winner: The Neighbors' Window
Writing (Adapted Screenplay)
Steven Zaillian, The Irishman
Taika Waititi, Jojo Rabbit
Todd Phillips and Scott Silver, Joker
Greta Gerwig, Little Women
Anthony McCarten, The Two Popes
Winner: Taika Waititi, Jojo Rabbit
Bong Joon-Ho wrote the dark comedy-turned-thriller Parasite with Han Jin Won, his assistant director on previous film Okja. Bong has said the inspiration for what he calls a "tragicomedy" came from an early job when he worked for a wealthy family in South Korea until he was fired after two months. A true film lover, Bong declared at the Sydney Film Festival, where Parasite was in competition, that he would spend the $60,000 prizemoney on "DVDs and Blu-rays".
Bong Joon Ho is a such a deserving winner for his amazing film Parasite. I wonder if this strengthens his chances of pulling off a real shock win in the best picture category. No foreign film has ever done that, though Roma surely came close last year. Parasite is a near-certainty to win best foreign language film though. Stay tuned.
This award presentation has something for all the family. There's Kelly Maree Tran with Questlove at his drumkit to introduce Diane Keaton and Keanu Reeves; the latter Tran describes as "a man whose Matrix we'd all like to reload".
They're here to introduce best original screenplay. In keeping with a lifetime of screen performances, Keaton suffers an attack of ditziness. "I'm going to open this for you," she says to Reeves.
"No, no, not yet," he says. Yes, probably a good idea to go through the nominees first.