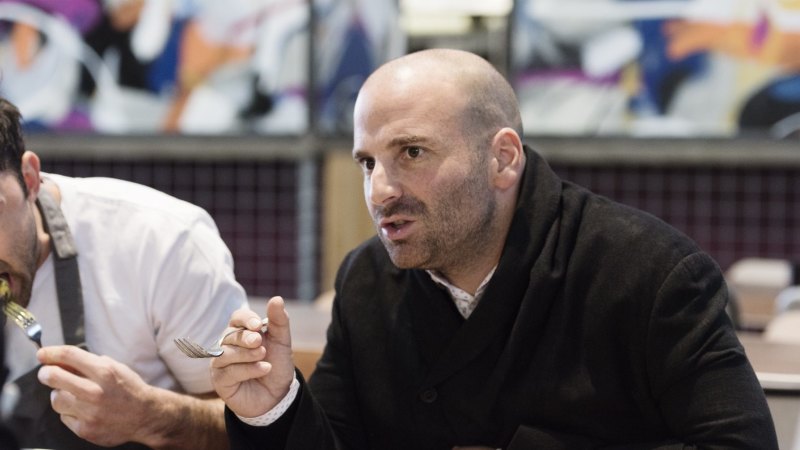 Like the summer's bushfires, the failure of Calombaris's group might be a wake-up call for people who like to eat out: can we continue eating fabulous food cooked in celebrity-chef branded kitchens where the staff are overworked and underpaid?
Can we really keep enjoying the good value of restaurants like Hellenic Republic when that value is based on ripping off the kitchen and floor staff? And is the big restaurant brand with a figurehead chef where we can eat the same famous food in Brunswick or Kew or Williamstown, more a corporation than a kitchen, really what we want?
Among the casualties in the collapse is Matt Wilkinson, who just last month took over the East Brunswick Hellenic Republic site for the Made Group, rebranded as the plant-based Crofter Dining.
Wilkinson said he feels like he has been "punched in the gut by the big kid at school", but is hoping to put together an offer to the receivers to reopen on Friday.
Wilkinson made his name around the corner at Pope Joan, a much more modest cafe-style eatery where the food and coffee were plenty fine; Pope Joan was forced to close by the relentless apartment development eating up East Brunswick real estate.
Loading
Locals and regulars were saddened by the loss. Pope Joan had been quietly doing its thing for eight years, winning plenty of plaudits for her food without ever feeling the need to go big brand.
Maybe that is a more sustainable model: small, part of the neighbourhood, where the chef who cooks our daily bread is (mostly) in the kitchen earning hers, doing what he or she does best.
Matt Holden is a Melbourne writer.