Mr Christensen refused to release his own referral to the Independent Parliamentary Expenses Authority.
The MP, who spent almost 300 days in the Philippines over a four-year period, repaid more than $2000 after he was found to have misused taxpayer money using entitlements to connect to international flights.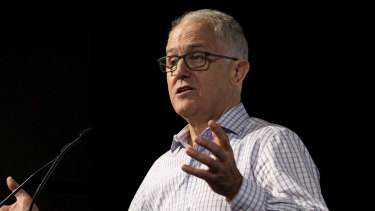 He misused his travel expenses by linking taxpayer-funded domestic travel to a month-long personal holiday that included visits to the Middle East and the Philippines.
The Queensland MP is also continuing to fight the release of a cache of material about the year-long federal police investigation.
Loading
The federal police were set to release 57 folios of information, but Mr Christensen objected and appealed.
The Member for Dawson lost but is now weighing up taking it to the Information Commissioner, which could drag the matter on for months if not more than a year.
When he was prime minister, Mr Turnbull was briefed by then-federal police commissioner Andrew Colvin on six separate occasions.
The police probe found no evidence of any criminal behaviour, but determined he remained an ongoing risk of being compromised, according to sources familiar with the police assessment.
In December this masthead revealed Marjorie Lamsen, a manager at Ponytails bar in the Philippine city of Angeles, identified Mr Christensen as a regular at the venue.
The bar lists itself online as an "adult entertainment service". Angeles City is notorious for its nightlife and "go-go bars".
Ms Lamsen told this masthead in December: "He [Mr Christensen] was always very good … he was a big spender".
Department of Prime Minister and Cabinet secretary Martin Parkinson was first to be notified by police about their inquiries into Mr Christensen's travel on September 7, 2017.
Mr Turnbull's briefings started not long after, and he was provided six over the course of about a year.
Loading
"He [Mr Turnbull] certainly asked to be kept informed," federal police Commissioner Andrew Colvin told a Senate estimates hearing in April.
Barnaby Joyce, who was deputy prime minister at the time, was also alerted to the probe by police in December 2017.
Home Affairs Minister Peter Dutton was informed in 2018, as was Michael McCormack when he assumed leadership of the National Party.
Earning the nickname "The Member for Manila" among his colleagues, Mr Christensen spent 294 days in the Philippines between 2014 and 2018.
The maverick MP has previously labelled reports about his travel a "vile smear".
Mr Christensen is now married to Filipino national April Asuncion.
Last year Mr Turnbull's publisher Hardie Grant had been denied a defamation insurance policy over fears the political memoir would trigger a slew of defamation claims.
Insurance executives specifically cited the upcoming release of A Bigger Picture as one factor that played into its existing insurer Chubb's decision not to renew Hardie Grant's policy in recent negotiations.
Mr Christensen did not respond to requests for comment.
Anthony is foreign affairs and national security correspondent for The Sydney Morning Herald and The Age.