Yovanovitch's comments came as Congressional Republicans showed little sign they would move to check Trump's brash public intervention in the federal prosecution of a former campaign confidant, Roger Stone.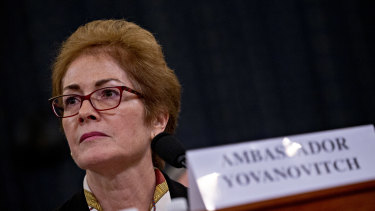 Trump this week publicly decried a Justice Department sentencing recommendation for the political operative.
He then congratulated Attorney General William Barr in an early-morning tweet Wednesday for "taking charge" and overruling it – creating at least the appearance that the long-standing taboo against overt political influence on prosecutorial matters had been obliterated.
"It doesn't bother me at all, as long as the judge has the final decision," said Senator Charles Grassley, Republican, a former Senate Judiciary Committee chairman who sharply criticised the administration of President Barack Obama for alleged politicisation of the Justice Department.
Democrats cast the lack of pushback as further evidence that Trump feels emboldened, unchecked and unleashed after his Senate acquittal on two impeachment charges – abuse of power and obstruction of Congress – at his trial, which ended last week.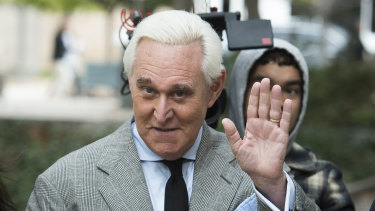 Besides the president's public statements on the Stone case, Democrats pointed to his dismissal of subordinates, such as Yovanovitch, who testified in the House impeachment probe and Trump's decision to withdraw one executive nomination this week, a former US attorney who had overseen the Stone case at an earlier stage.
Trump may also abandon a Defence Department nominee who had questioned a White House hold on military aid to Ukraine.
Senator Sherrod Brown seized on the demise of the nomination of Jessie Liu to serve as undersecretary of the Treasury Department for terrorism and financial crimes as proof that Trump is "on a retribution tour."
"I mean, it's just one thing after another," said Brown, the top Democrat on the Senate Banking Committee, where Liu was set to testify Thursday at her confirmation hearing. "The president clearly feels he's unleashed. And [Republicans] all said he learned his lesson – the lesson he learned is he can get away with whatever he wants."
Yovanovitch retired this month from the Foreign Service. Since her return from Ukraine in May, she has taught at the Georgetown institute, which presented her with the Trainor Award, given annually for distinguished diplomatic service.
A full complement of retired senior US diplomats filled the front rows of a packed auditorium that included some previous winners of the award and Georgetown students.
Yovanovitch was introduced by Thomas Pickering, a former undersecretary of state and ambassador to Russia and the United Nations.
Showing a persona absent from her tense testimony before the House impeachment panel in November, Yovanovitch, 61, smiled broadly when she was given a lengthy standing ovation. She thanked Georgetown for taking in and "sticking by me when, frankly, I was nothing but trouble."
In remarks frequently interrupted for applause, she largely avoided the Ukraine controversy and spoke instead of her immigrant family, the importance of American diplomacy and its rewards as a profession.
Much of her remarks referred obliquely to the challenges State Department professionals now face, from reduced staffs and budgets, low morale, and accusations by the Trump administration that many government professionals are part of the president has called the "deep state" working against his administration.
"We can be pessimistic and sort of give up . . . or we can believe in ourselves and do the hard work," Yovanovitch said. "I believe that this is a time for each one of us to pick our passion. . . . We all need to be contributing to making our community, our country, our world, the kind of place we want it to be."
The Washington Post